Danes Launch Offshore Wind-Optimised Drill Ship
Danish engineering consultancy Geo and shipping company NCT Offshore have launched a new drill ship named Freja, an S-Class ROV Support DP2 vessel and the only drill ship of its calibre and type in the Nordic countries after the rebuild, according to the companies that marked entering a strategic collaboration with the joint vessel launch.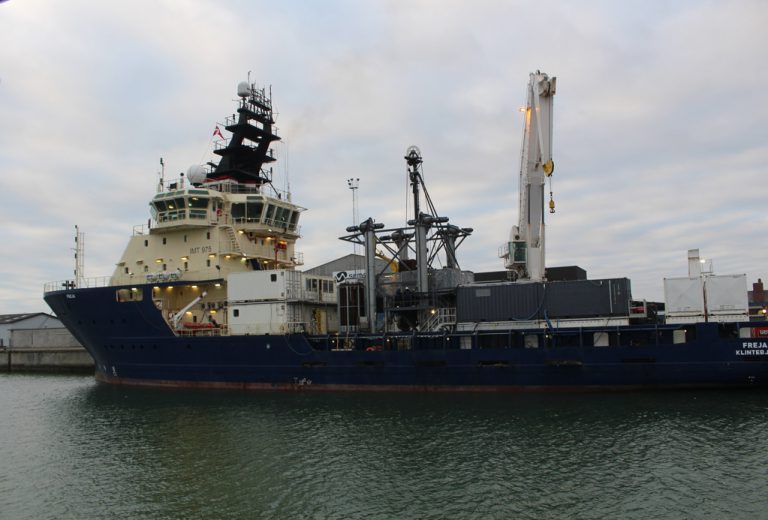 Commenting on the new partnership, Department Director of Geo's Marine Survey unit, Jens Brink Clausen said: "Geo has one of the industry's longest track records in relation to geotechnical site investigations for offshore wind projects. NCT Offshore on the other hand has the right DP2 vessel to operate as platform for Geo's geotechnical drilling and seabed equipment".
Geo said the setup is designed and optimised to operate in water depths typical for offshore wind projects (15m-60m) and for geotechnical- and high quality core drilling (GeoBor-S). The heave compensated setup on the vessel Freja allows for a range of technical services to be undertaken, ranging from high quality geotechnical drilling in soil and rock using the GeoBor-S system to a range of CPT (Cone Penetration Tests) and Vibrocore rigs.
Additionally, the vessel is optimised for a geophysical spread including side scan sonar, sub-bottom profiler, magnetometer and hull mounted multi-beam echo sounder.
"The system is built up around a specially designed active heave compensated working platform (HCP). The principle of the system is that the entire drilling floor, including drill rig and drillers, is heave compensated to move with the movement of the ship. This means that the working deck is stationary, while the vessel follows the movements of the waves," Brink Clausen said. "Being able to work offshore from a stationary deck means that we are able to apply drilling techniques usually limited to onshore drilling. On conventional vessels, only the drill string itself is usually heave compensated".
The idea behind Freja is that the multi-purpose vessel has the flexibility to take on a wide range of different projects. The scopes can range from large offshore drilling campaigns with core drilling or sampling, handled at the vessel's on-board laboratory, to projects that only require shallow CPT and Vibrocore. The cost structure is set up in such a way that it reflects the technical solution required. Therefore, utilisation of the vessel determines the costs, contrary to being a fixed cost, according to the companies.