HSM Offshore and Heinen & Hopman Team Up on Borkum Riffgrund 2 OHVS
Dutch offshore structures manufacturer HSM Offshore has contracted compatriot Heinen & Hopman to fabricate and install the HVAC (Heating, Ventilation and Air Conditioning) system for the 450MW Borkum Riffgrund 2 Offshore High Voltage Substation (OHVS).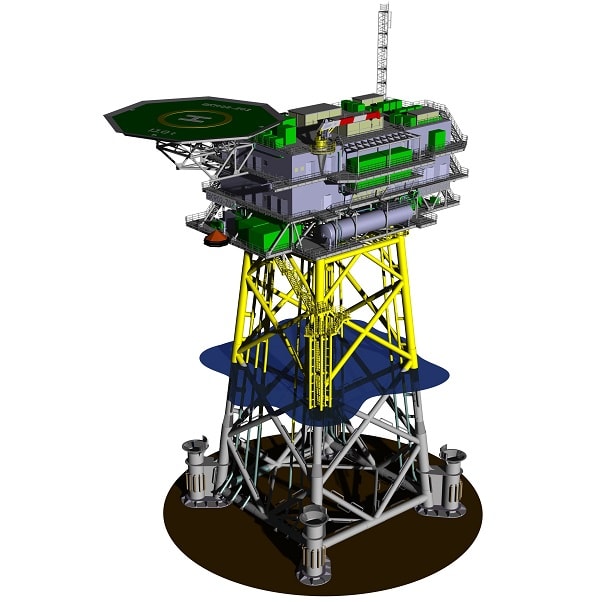 HSM Offshore was awarded the EPC contract for the Borkum Riffgrund 2 high voltage AC transformer platform.
Once installed in the German North Sea in 2018, the offshore substation will collect the electrical energy from the offshore wind farm's turbines, transform it to a higher voltage level, and deliver the power to shore.
Offshore substations require a controlled indoor climate to maintain the temperature, relative humidity and air quality within the design limits in order to ensure optimum operation of installed electrical and electronic equipment.
By providing ventilation, heating, cooling and moisture control, acceptable air quality and temperature is achieved in all weather conditions. Indoor rooms will be kept at an 50 Pa over-pressure in order to avoid infiltration and ingress of salt-particles, dust and saltwater aerosols.
Heinen & Hopman will supply the de-humidification system, the ventilation system including natural ventilation, the heating & cooling system as well as the HVAC control systems.
Robustness was one of the key requirements, the company said. High quality materials will be used to avoid corrosion and guarantee the 25 year lifetime of the platform.
For example, only stainless steel ducting and piping will be used, as well as self-contained units with air cooled condenser coils made of titanium.
Borkum Riffgrund 2 is being developed by DONG Energy some 54 kilometres off the coast of Lower Saxony, next to Borkum Riffgrund 1.
The wind farm will consist of 56 of MHI Vestas' 8MW wind turbines with rotor spans of 164 meters, expected to be fully commissioned in 2019.