Nexans Nets EA1 Export Cable Contract, Hires DeepOcean for Installation
Nexans has won a contract worth more that EUR 180 million to supply submarine cables that will carry the electricity from the 714MW East Anglia ONE offshore wind farm to the mainland.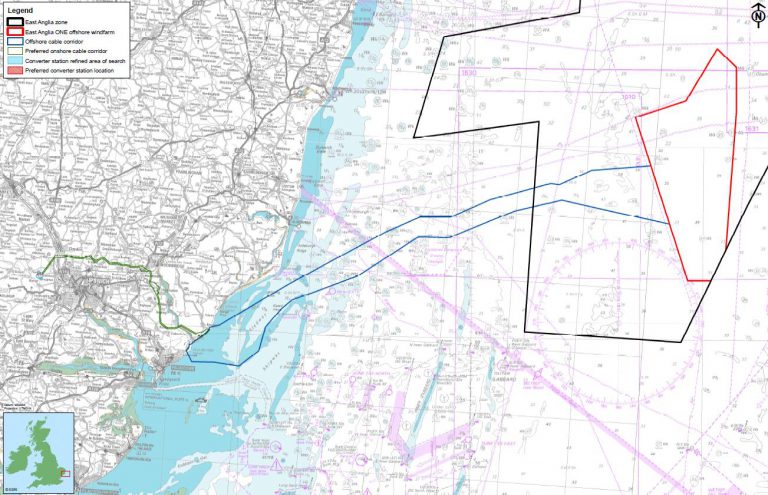 Nexans will type test, manufacture and then install two 85km 3-core HV submarine cables with embedded fibre optics at the 300 km2 site. The turnkey contract includes a pre-installation survey and cable protection by burying.
The company will start delivering the cables in Summer 2018 and has subcontracted DeepOcean to carry out the transport and installation works.
Jonathan Cole, Managing Director of Offshore Wind at ScottishPower Renewables, said: "Both Nexans and DeepOcean have considerable experience in providing and installing cables for offshore wind power projects in the UK. DeepOcean have won a number of major contracts recently and it is positive to see that many highly-skilled jobs in Darlington will continue to be supported with the award of this contract, and hopefully this will also lead to further recruitment and training opportunities in the region."
Cole went on to say that preparations for the initial work onshore are underway the offshore works, which will kick-off in 2018, currently in advanced planning stages.
"We hope that further major contracts will be placed in the UK in the coming months, adding to the jobs and investment we are already creating in Great Yarmouth, Lowestoft, Hull, Belfast and Darlington," Cole said.
Morten Langnes, Sales Manager Submarine High Voltage Power Cables at Nexans, said: "The East Anglia One project will create thousands of jobs in the region, as well as for suppliers in the UK. We are committed to supporting both sustainable energy and the local economy."
The GBP 2.5 billion East Anglia ONE is owned by ScottishPower Renewables, a UK arm of Spanish Iberdrola, and it will provide green energy for well over 500,000 homes in the UK, once fully operational.
The wind farm, located approximately 45 kilometers off southeast of the town of Lowestoft, will consist of 102 Siemens 7MW turbines and an electrical substation which are scheduled for full commissioning by the end of 2018.
Offshore WIND Staff