Gravity Based Foundations for Blyth Demo Taking Shape
Gravity based foundations for the Blyth Offshore Demonstrator Project are well under construction at the Neptune dry dock on the Tyne in Newcastle, UK. Lower shafts have been placed, with roof panels set to be mounted this month, according to BAM Infra's social media pages.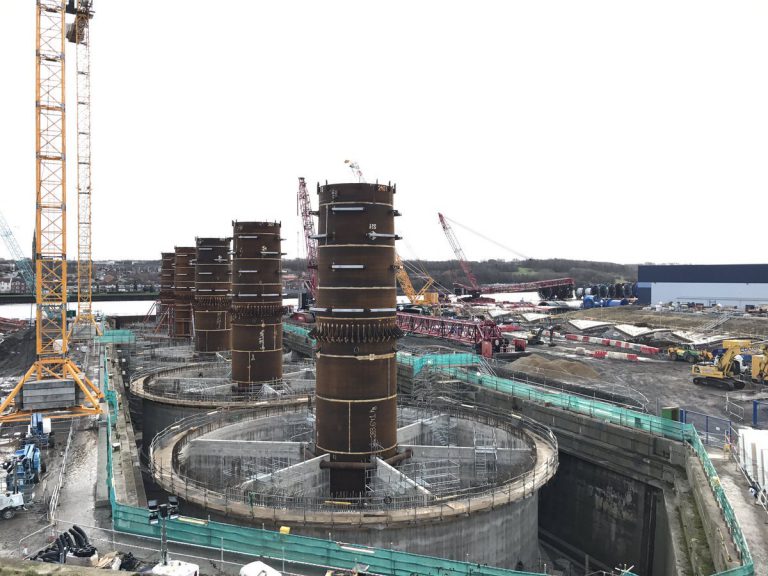 In June 2016, EDF Energy Renewables awarded Royal BAM Group the contract for the design, fabrication and installation of five full-size gravity based foundations, first of their kind to be built in the world, according to the company.
The foundation design utilises 'self-installing' technology, developed by two BAM companies, BAM Nuttall and BAM Infra. The design has been carried out by BAM Infraconsult, which assigned COWI to assist with geotechnical interpretation and load definition.
The foundations combine a steel reinforced concrete foundation, with a steel monopile, allowing the installation in water depth of up to 45 metres while eliminating noise from pile hammering during installation.
The Blyth Offshore Demonstrator Project is the first to utilise the hybrid gravity-based foundations, as well as 66kV electrical infrastructure.
It will feature five MHI Vestas 8MW turbines optimised to deliver a maximum output of 8.3MW.
The installation works are expected to commence during summer.
Offshore WIND Staff