Huisman Muscle for First Japanese-Built Wind Turbine Installation Vessel
Lifting, drilling and subsea solutions provider Huisman has secured a contract  for the delivery of one 800mt pedestal mounted crane (PMC) to be installed on a wind turbine installation vessel (WTIV) being built by Japan Marine United Corporation (JMU) for Penta-Ocean Construction.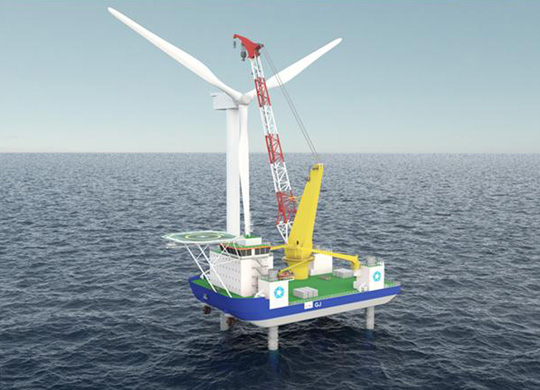 The crane will be built at Huisman China, with the delivery planned for April 2018.
The 800mt PMC is the largest Huisman built PMC to date. The crane is equipped with three optional reeving set-ups to optimize the hoisting of lighter loads and makes use of a custom electric drive system of which the components are made in Japan by Yaskawa.
It is further characterized by its small tail swing, optimizing free deck space, and the fact that all drivers are installed inside the enclosed crane house, Huisman said.
Huisman CEO Joop Roodenburg said: "After delivery of the 1,500mt Leg Encircling Crane for the Seajacks Scylla end 2015, we secured a number of prestigious wind turbine installation crane orders including a 1,600mt Leg Encircling Crane and a 3,000mt Offshore Mast Crane. We consider the new 800mt PMC order as the icing on the cake and see this order as a first step in the development of our market share in Japan."
Penta-Ocean ordered what is to be the first WTIV to be built in Japan in July 2016. The basic design of the jack-up vessel has been supervised by the Netherlands-based GustoMSC.
The vessel is designed based on jack-ups used in Europe for installation of oil rigs or offshore wind turbines, but with a jack-up system that matches Japanese natural conditions and on-site characteristics.
The jack-up is expected to be delivered in September 2018.