Principle Power's Alexia Aubault Wins Offshore Energy Young Engineer Award
Alexia Aubault, an Engineering Manager at Principle Power, has won the inaugural Offshore Energy Young Engineer Award for her work on the WindFloat 1 floating wind turbine platform prototype project offshore Portugal.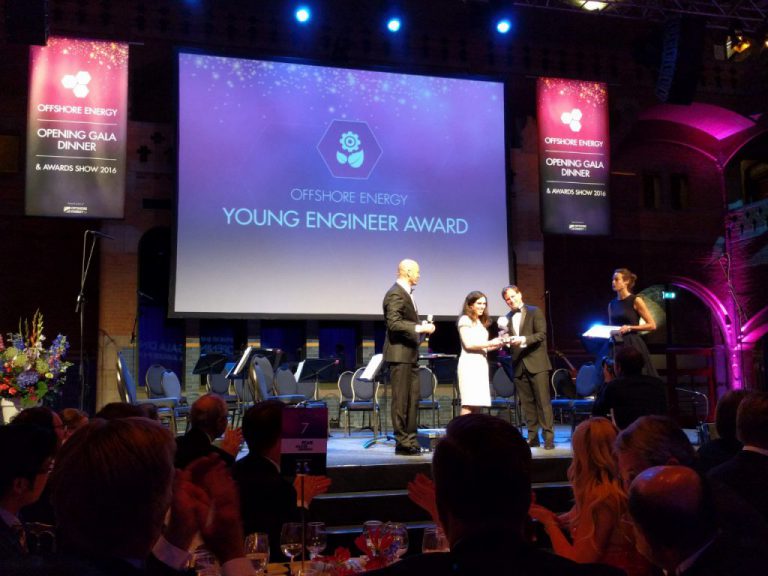 Aubault was presented with the award during the first Offshore Energy Opening Gala Dinner held on Monday, 24 October, at Beurs van Berlage in Amsterdam, ahead of the official opening of this year's Offshore Energy Exhibition & Conference in Amsterdam.
She was one of fourteen applicants competing for the award.
In 2010, Aubault started working on the WindFloat 1 project as a lead structural engineer.
She then transitioned to a position of an Owner Engineer where she directed shipyard workers to make sure the WindFloat 1 prototype was fabricated according to the engineering specifications and with the offshore-grade quality standards.
 "This is an amazing surprise as I did not expect to win this award. I wish to thank the organizers of this event for recognising our efforts," Aubault said.
"We have been working very hard on finalizing the detailed design of the project so that we can install three 8 GW units in 2018 or 2019. This is an exciting, groundbreaking project for floating offshore wind and we hope to do many more."
The 2MW WindFloat 1 prototype was decommissioned at the end of September 2016 following a successful completion of a 5-year testing phase.
The project, originally installed in 2011, was a full lifecycle demonstration of the features and benefits of the WindFloat floating offshore wind foundation concept, and featured a Vestas V-80 2MW turbine.
Fabricated using the local supply chain and fully assembled and commissioned ashore, the WindFloat 1 was then towed 400km to its project site, where it ultimately delivered over 17 GWh of energy to the grid and successfully operated through waves that at times exceeded 17m and winds of over 60 knots, according to Principle Power.
The Offshore Energy Young Engineer Award recognizes outstanding achievements of an engineer of 35 years of age or younger. This individual should have demonstrated professional accomplishments in the role of engineer and evidence of outstanding talent, dedication and leadership in the offshore energy industry. Furthermore, he or she must be working in the offshore energy industry and has to be nominated by someone who is also working in the offshore energy industry.