2015 European Offshore Wind in Numbers
European offshore wind saw some big numbers last year, with EUR 13.3 billion invested in the sector and a total of 3,019 MW of new grid-connected capacity added. Even though 7 wind turbines were decommissioned (two at Robin Rigg and all five at Yttre Stengrund), 419 newly installed ones were there to overshadow this.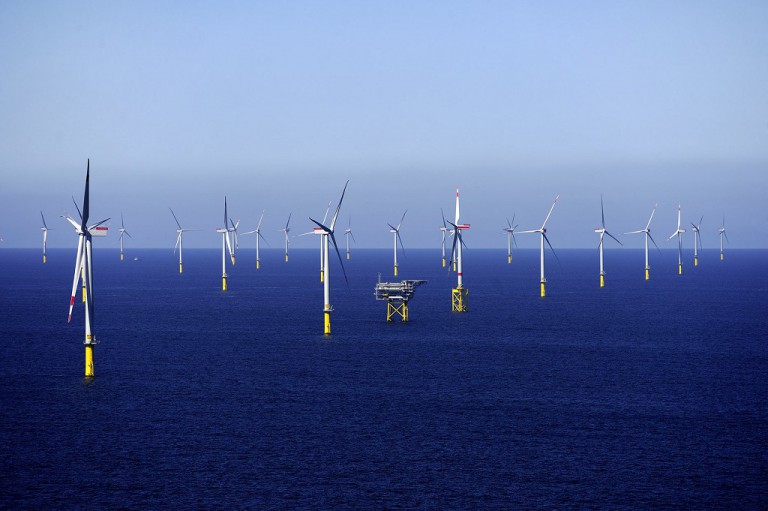 Fourteen projects were completed in 2015, with work underway on 6 projects in Germany, the Netherlands and the UK, the European Wind Energy Association (EWEA) reported in its latest offshore wind statistics, which provide an insight in various parts of the sector.
So, let's get a bit meticulous about offshore wind:
75.4% of all net capacity brought online in 2015 was in Germany (2,282.4 MW), a four-fold increase in its grid-connected capacity compared to 2014. This was in large part due to the delay in grid connections finally coming online in 2015 in Germany. The second largest market was the UK (566.1 MW, or 18.7% share), followed by the Netherlands (180 MW, or 5.9% share).
Of the total 3,018.5 MW connected in European waters, 86.1% were in the North Sea, 9.2% in the Baltic Sea, and 4.7% in the Irish Sea.
Siemens continues to be the top offshore wind turbine supplier in terms of net annual installations. With 1,816.4 MW of new capacity connected, Siemens accounts for 60% of the 2015 market. Adwen (550 MW, 18.2%), MHI Vestas (391.5 MW, 12.9%) and Senvion (270.6 MW, 8.9%) are the other turbine manufacturers who had turbines grid-connected in full-scale wind farms during 2015.
Similarly, in terms of net grid-connected units, Siemens remains at the top with 476 turbines of various individual turbine capacities (3-6 MW, accounting for 62.7% of connected capacity) connected in European waters during 2015. MHI Vestas connected a net total of 129 turbines (ranging from 3-3.3 MW) representing 17%2. Adwen connected 110 turbines to the grid, each rated at 5 MW, representing 14.5% of all turbines connected. Senvion also connected 44 turbines, with an individual turbine rating of 6.15 MW, making up 5.8% of grid-connected turbines in 2015.
E.ON was the largest developer in the European offshore sector in 2015 with 17.1% of total connections. Combined with RWE Innogy (344.4 MW, 11.4%), EnBW (288 MW, 9.5%), Stadtwerke München (235.5 MW, 9.5%), DONG Energy (234 MW, 7.8%), the top 5 developers added 1.6 GW of installed capacity, representing 53.6% of total installations in 2015.
Monopile substructures remained by far the most popular substructure type in 2015 with a net total of 385 installed (97%), taking into account the seven monopiles that were decommissioned in the UK and Sweden.12 jacket foundations were also installed, representing 3% of all newly installed substructures.
Foundations installed in 2015 were supplied by EEW (41.1%), Sif (34.1%), Bladt (21.6%), Smulders (3.8%), with decommissioning of AMEC foundations resulting in a decrease in market size by 0.6%.
In 2015, 218 inter-array cables manufactured by Prysmian were energised, representing the largest market share at 28.9%. 198 cables connecting wind turbines manufactured by NSW were energised, representing 26.3% of all energised cables. 123 cables manufactured by NKT were also energised (16.3%), together with 104 by Nexans (13.8%), 57 by Parker Scanrope (7.6%) 39 by ABB (5.2%), and 15 by JDR (2%).
In terms of export cables in 2015, 47 export cables manufactured by Prysmian were energised (44.7% of all export cables). Ten export cables manufactured by NKT (21.3%), along with seven from ABB (14.9%). Six from NSW (12.8%), and three from LS Cable & System (6.4%) completed
the market in 2015.
The average water depth of offshore wind farms where work was carried out in 2015 was 27.2 m, slightly more than in 2014 (22.4 m). The average distance to shore for those projects was 43.3 km, significantly more than in 2014 (32.9 km). This reflects the greater share of projects that were under construction and completed in Germany, which are sited further from shore when compared with other countries.
The average capacity rating of the 754 offshore wind farms under construction in 2015 was 4.2 MW, 12.9% larger than in 2014. Larger capacity turbines were deployed by all manufacturers in 2015. The average size of wind farms in construction in 2015 was 337.9 MW, an 8.2% decrease from 2014.
The completion of large numbers of German offshore wind farms designed at 288 MW overall capacity offsets the completion of the large 576 MW Gwynt y Môr site, and construction at the 600 MW Gemini offshore wind farm, affecting the overall average size of sites.
Cumulative market
Europe's cumulative installed capacity at the end of 2015 reached 11,027.3 MW, across a total of 3,230 wind turbines. Including sites under construction, there are now 84 offshore wind farms in 11 European countries.
The UK leads the market with 1,454 grid-connected wind turbines (45%), followed by Germany (792 wind turbines, 24.5%), Denmark (513 turbines, 15.9%), Belgium (182 turbines, 5.6%), the Netherlands (184 turbines, 5.7%), Sweden (86 turbines, 2.7%), Finland (nine turbines, 0.3%) and Ireland (seven turbines). Norway, Portugal, and Spain all have one wind turbine each.
Siemens is the lead offshore wind turbine supplier in Europe with 63.5% of total installed capacity. MHI Vestas (18.5%) is the second biggest turbine supplier, followed by Senvion (7.4%), Adwen (5.7%), and BARD (3.6%).
DONG Energy maintains its position as the biggest owner of offshore wind power in Europe with 15.6% of cumulative installations at the end of 2015. E.ON (9.6%), Vattenfall (8.9%), RWE Innogy (6.4%) and Stadtwerke München (3.8%) complete the top five developers and owners.
Source: The European offshore wind industry – key trends and statistics 2015 by EWEA; Feature image: DONG Energy/Illustration