Van Oord: Dredging Companies Venturing into Offshore Wind (Interview)
During the Offshore Energy 2015 Exhibition and Conference, Offshore WIND met with Theo de Lange, Commercial Manager of Van Oord Offshore Wind Projects.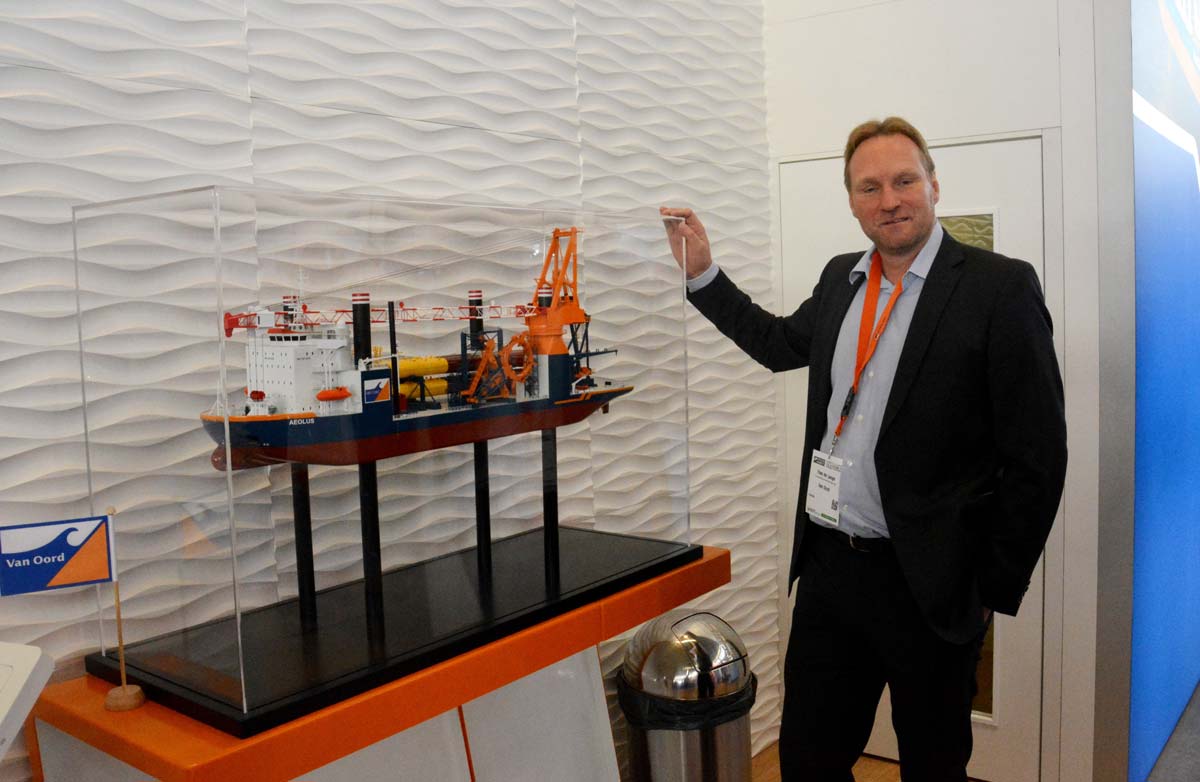 De Lange gave us an overview of company's activities in the offshore wind, as well as an insight into current market conditions.
Hereby, we bring you the first part of an interview where we talked about Van Oord's first steps in offshore wind industry, learning experiences, newly acquired vessels and market development.
OW: Van Oord started as a company specialized in dredging and land reclamation. What made it venture into the offshore wind industry?
De Lange: As part of our dredging and land reclamation activities we were already involved in many rock installation projects, so it was a small step to become involved in the installation of rock for the scour protection around monopiles. This was our first involvement in offshore wind. Then we started with the piling of foundations followed by cable laying activities, and very soon we became involved in all Engineering, Procurement, Construction and Installation (EPCI) activities for the complete Balance of Plant of offshore wind projects.
And I think that as a dredging company you're used to work in the shallow water zone, between land and the deeper part of the sea, where we build the offshore wind farms. So it is the environment we are used to work in.
This is probably the reason that increasingly the offshore wind construction market will be substantially served by large marine contracting companies.
OW: Taking into account the current industry development, when do you see this happening?
De Lange: It's happening already. The large marine contracting companies are investing in new equipment and are increasing their market share. The charter companies that are providing installation vessels, just on a Bimco charter day rate, will probably get in a more difficult position.
OW: Why do you believe this will be the case?
De Lange: There is a tendency that clients want an EPCI contractor to take over construction risks. Also investors and banks like those risks to be shifted to the construction companies. Another reason is that the weights of the monopiles are increasing, so new investments in larger installation vessels will be needed. Of course, I cannot predict the market, but I think it will be harder for them to make this kind of investment decisions than it will be for marine contracting companies.
OW: How do you see the oil prices affecting the offshore wind industry?
De Lange: The effect of the oil price as such, doesn't influence the offshore wind market. I think the offshore wind market is mainly driven by a policy of CO2 reduction. I don't see that there is a direct relation between the political support for offshore wind and the oil price. What we do see however is that a lot of the companies that were focussing on offshore oil and gas construction market, now also are looking to the offshore wind construction market because they see possibilities in this growing market to compensate for the decreasing market in offshore oil & gas construction activities.
OW: As offshore wind industry is relatively young, it had a lot to learn from other offshore industries. Can you tell us how did your dredging and oil and gas know-how affected your work in offshore wind industry? Can you give us some examples?
De Lange: I think there is a big difference between the activities in offshore oil and gas and offshore wind. In oil and gas there are mainly one-of-a-kind projects which are very well engineered and prepared. There, for example, you're installing one jacket foundation, one topside, and that's it. The offshore wind has a repetitive character. For Gemini we have to install 150 monopiles, 150 transition pieces, 150 infield cables, and 150 turbines. So there is a huge pressure on offshore wind to make it cheap and to reduce the cycle times. For one topside installation in oil & gas the cycle time isn't that important. When it takes one week or two weeks, it doesn't substantially influence the project feasibility. In offshore wind all that counts is time and reducing the cycle times that you need for the installation. Doubling of the installation time could lead to an unfeasible project. So I would rather say that it is the other way around. Probably in offshore oil and gas they are benefitting to some extent from the developments in offshore wind. We see that some of the offshore wind installation vessels are also used for decommissioning jobs and crew transfer systems that have been developed for offshore wind are also being used in oil and gas.
OW: To strengthen its position in offshore wind, Van Oord acquired a new offshore installation vessel (Aeolus) and a new cable-laying vessel (Nexus). What does this mean in terms of market conditions?
De Lange: We see it as a large benefit to do the installation activities with our own vessels, because we are managing the vessels, we know the vessels, and we have a crew that is acquainted with the vessels. Those vessels generate cash flow, but they also make it safer and faster to do the installation. Everything is focussed on getting the project done safely and within time and budget. We have proven this on many projects. Recently we finished construction of the Eneco Luchterduinen wind farm about four months before schedule. That's the reason why we prefer to work as much as possible with own equipment and I think that many clients also notice that this way of working is more attractive for them then managing the interfaces and risks themselves.
Offshore WIND Staff; Images: Navingo/Van Oord