RWE OLC Charters Offshore Construction Vessel to ZPMC Profundo
Offshore Logistics Company (OLC), a subsidiary of RWE Innogy GmbH (RWE), has signed a 5 year bareboat charter for their offshore construction vessel, Friedrich Ernestine, with the Chinese joint venture company ZPMC Profundo Wind Energy Co.,Ltd.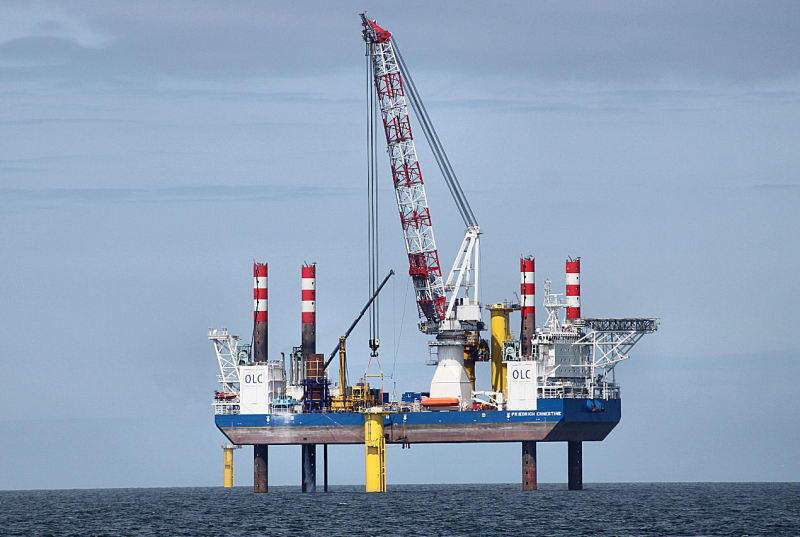 The vessel will mobilise to the Far East in early 2015 to commence operations in the Chinese and Asian offshore market. ZPMC Profundo Wind Energy Co., Ltd is a joint venture between the state owned shipping giant Shanghai Zhenhua Shipping Co.,Ltd and the private company Profundo Offshore Contractor Ltd.
The charter of this vessel aims to secure ZPMC Profundo Wind Energy's position in the vanguard of Asian offshore wind. The Friedrich Ernestine construction vessel is one of the largest and most modern vessels of its kind. On behalf of RWE Innogy, OLC is presently engaged in the building of the wind farms "Nordsee Ost" (295 megawatts) off the German coast and "Gwynt y Môr" (576 megawatts) off the coast of Wales in the UK.
Eric Zhan, CEO of ZPMC Profundo Wind Energy stated "This is an extremely exciting time to be involved in offshore wind in Asia and especially within the new joint venture ZPMC Profundo Wind Energy Co., Ltd. The combination of a powerful, experienced, state-backed company such as ZPMC and the flexibility of operation afforded by a private enterprise like Profundo gives a strong foundation for success going forward. We look forward to the arrival of the Friedrich Ernestine in China and the start of our cooperation with RWE OLC to bring clean, green, and affordable energy to Asia. "
Peter Sharman, CFO of RWE OLC said "This collaboration marks a great step for the deployment of the Friedrich Ernestine in to the third-party market. We are delighted to have been providing services to ZPMC Profundo Wind Energy and to see the Seabreeze vessel Friedrich Ernestine in Asia during early 2015. With this, we are contributing to the development of the emerging Asian offshore market."
The formal announcement was made at 'The Chinese and European Offshore Wind Power Engineering and Equipment Forum' held in Beijing on 2 Dec 14, hosted by China Wind Energy Association (CWEA) and ZPMC. The forum was supported by ZPMC Profundo Wind Energy CO.,Ltd, Jiansu Longyuan Zhenhua Marine Engineering Co.,Lt and Maersk Broker K/S.
The concept of taking European tonnage to China has been on the Maersk Broker agenda for some time and this deal is the result of over 2 years of hard work and negotiation.
Torben Ørting Jørgensen, Director Maersk Broker Specialised Tonnage, said "Today marks the start of a strategic cooperation between two forward-leaning and innovative companies who had the vision, energy and foresight to be the first mover in this burgeoning Asian market. We are extremely proud to have brokered this ground-breaking deal and have every confidence that the Friedrich Ernestine will lead the way in Asian offshore wind. Not only that, we forsee that, before long, Chinese innovation, manufacturing scale and competitive drive will result in a long-awaited lowering of CAPEX / OPEX in offshore wind which in turn can be brought back to the European market. We stand ready to assist our valued Chinese clients in their future ventures."
Press release; Image: maerskbroker