Damen Shipyards: Working together towards comfort at sea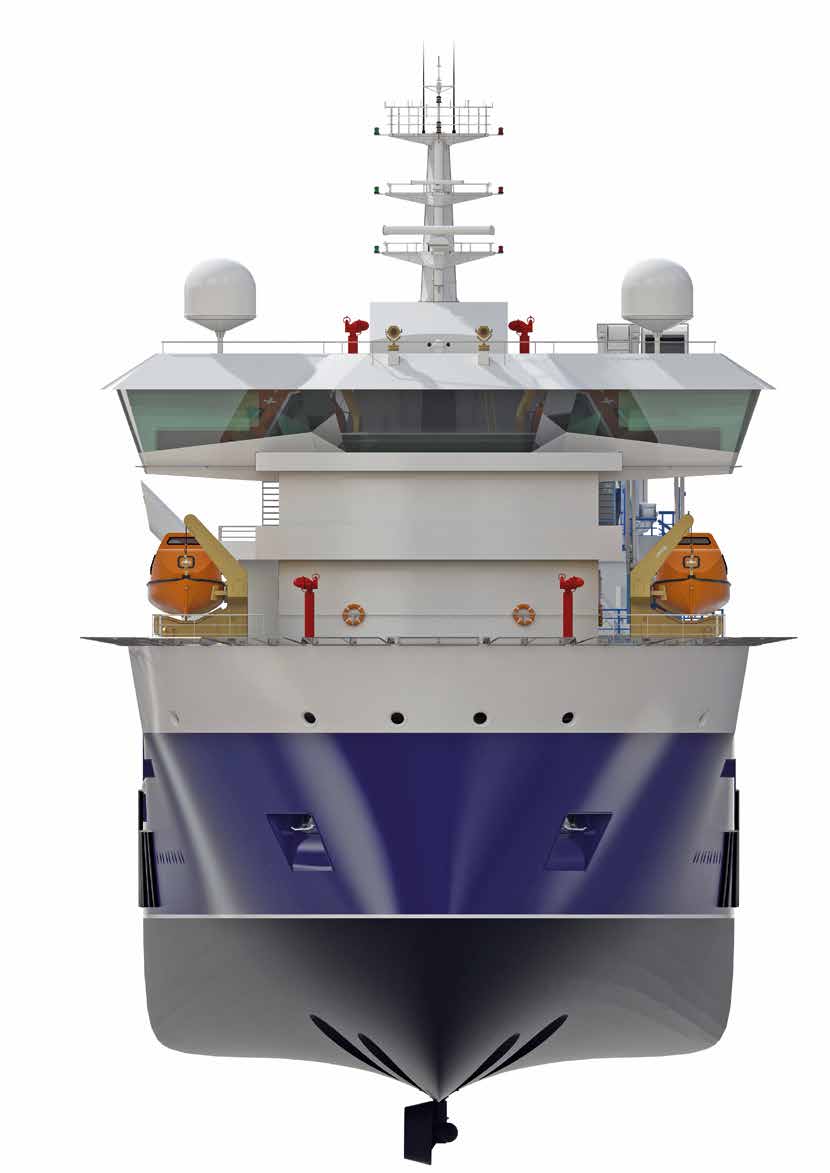 In just four years Damen Shipyards' presence in the offshore wind market has grown exponentially and the sector continues to be a key focus of the Dutch group. Headquartered in Gorinchem in the Netherlands, Damen Shipyards Group operates 40 ship and repair yards, employs 8,000 people world wide and has delivered more than 5,000 vessels in over 100 countries.
While Damen's survey vessels, Shoalbusters and Multi Cats have been in the offshore wind market for several years, the Group did not really actively get involved in the market until 2010. Arnout Damen, Chief Operations Officer, explains to Offshore WIND: "We saw that the offshore wind sector was a really significant industry, especially in the North Sea, and that it represented a sustainable market." 
He admits that Damen was 'a bit of a late developer' in the sector, particularly when it comes to crew transfer activities, which is now one of its best performing markets.
"Four years ago we took a close look at the competition and what they had developed. We anticipated that there was a need to transfer more people and that vessels needed to get larger. This led to the development of the Twin Axe Fast Crew Supplier 2610." The Twin Axe has subsequently become the industry standard with several major wind farm developers, some even adding a clause into tenders that these vessels, with their particular seakeeping behaviour, should be used.
Damen's focus on the offshore wind market also led the company to employ its own Offshore Wind Business Development Manager, Peter Robert, who was tasked with expediting developments and driving the business forward.
Today, Damen has many dedicated offshore wind vessels in its portfolio, ranging from the Fast Crew Suppliers and a Walk-to-Work vessel to its latest, a Cable Laying Vessel, and there are other additions to the fleet being considered.
For Mr Damen, the reason Damen has been able to make its mark in the industry is because it has been working closely with its clients but also their clients.
All Damen vessels have been designed with a lot of input from clients. "We have really analysed working operations on board, the work flow and this has all been taken into account. We have spent a lot of time with the turbine manufacturers, energy companies and wind farm support companies."
Exceptional sea keeping ability
This approach has certainly led to success in the market particularly when considering the Twin Axe FCS 2610. Although the speed of the market's acceptance of this vessel has been surprising, Mr Damen says, Damen was always confident that the 2610 offered added value.
"With this vessel we were absolutely convinced its sea keeping would outperform all products in the market. The Twin Axe is a bigger and heavier vessel and this also meant that it came at a somewhat higher price. However, this extra cost is offset because the FCS 2610 is extremely safe, fast and comfortable. The offshore maintenance and installation engineers, many of whom are shore-based, become seasick less often, which means they arrive at the turbines in a well-rested condition and have more energy to do their job."
"The FCS 2610 can go out in 2.6m significant wave heights. She doesn't lose any of her performance and she can safely transfer the crew. The Twin Axe can just keep going. When other vessels go off-hire this vessel can continue and still earn – many clients have told us so. It is capable of operating further offshore in rougher weather conditions, while ensuring safe transfer and it has plenty of cargo capacity." To date 28 have been sold and the second generation was recently launched.
With the next generation Twin Axe Damen has further enhanced the FCS 2610 design by working closely with clients who have had considerable input in the process. The new generation is tailor-made for clients and in turn, their end-customers, he adds.
Although the vessel is known for its passenger and crew comfort and ability to operate smoothly in higher sea states already, this has been further enhanced with the seating area placed on the bridge deck, giving passengers a full 360-degree view, an extended wheelhouse, more accommodation for the crew and improved tendering.
Facilities for the technicians and the crew have also been improved, with the addition of a pantry, changing room and a spare part area easily accessible at deck level. Furthermore, the operational capacity of the vessel has been upgraded by introducing modifications to bow thrusters and gearboxes. Eight CCTV cameras also give full coverage of the decks and vessel boundaries, increasing safety levels.
Next generation vessel as wind farms go further offshore
"The industry is seeing offshore wind farms go further and further offshore in more challenging waters. If we look at Round 3 in the UK, there are already wind farms going 150 miles offshore, hence the need for the larger crew transfer vessel."
Damen has spent a lot of Research & Development time into seakeeping behaviour and examining the safest way to help the crew access the turbines. "Safety and comfort are the most important factors. For instance we have added rails for holding onto when the crew need to step over to the turbines and they can use the front door rather than walk along the sides.
Also, we added a lift in case someone falls into the water. There is a very good overview from the bridge, which increases safety levels.
"We are proud setting the standard in this market but we always develop with our clients so they can serve their own clients well and earn money out of their vessels!"
It was great to see the Twin Axe FCS 2610 become the absolute market leader in just two years, he says.
Launch of Twin Axe FCS 2008
Following on from its success Damen is extending the range by introducing the smaller FCS 2008, which will be officially launched in June. The FCS 2008, which is specifically designed for near shore wind farms, was undergoing sea trials in March. Four have been built so far but Mr Damen expects that it will have a similar success as its big brother, as already one has been sold. "In the 20m sector, this vessel has better seakeeping than any of the competition and it has the same advantages as the larger 26m version."
Walking to Work
Another addition to the Damen offshore wind family launched recently is the "Walk-to-Work" Wind Farm Service Vessel. Again, this has been developed together with clients and the clients of clients. "This new vessel is the result of many interviews about their operations. Even 100 miles out at sea, this Wind Farm Service Vessel provides a very good access to turbines and platforms alike.
"We have paid particular attention to the workflow on board and the deck layout – where the crew put their dirty clothes, where the tools are, the spare parts….It is absolutely customer-made."
"We have focused on its seakeeping ability and introduced a lot of extra comfort because essentially many people in the offshore wind industry are shore-based staff, they are not mariners and staff retention is an issue."
"They can be offshore for up to a month so we have put the cabins in the mid and lower part of the vessel where there are fewer vessel motions."
Damen had considered the market and found that many secondhand vessels are being used, which are not really suited to offshore wind, says Mr Damen. Customers were keen to have a larger support vessel as wind farms go further offshore so we were set the task to develop a vessel that was able to provide maintenance crew transfers in wave heights of up to 3m, he adds.
Since its launch there is increasing interest from the offshore wind industry but also from the oil & gas sector, which has also seen its potential, Mr Damen emphasises.
Cable laying vessel for offshore wind
In yet another pioneering development Damen has developed a dedicated Cable Laying Vessel for the offshore wind industry.
Mr Damen comments: "This is, in a way, 'my baby'. I was always keen to have a true multifunctional platform. The cable layer is based on the Damen Offshore Carrier, a multipurpose vessel design Damen designed together with Heavy Lift specialist Hans van Mameren. It has a flush working deck, which is suited to heavy lift or Ro-Ro transport as well as having offshore installation capabilities."
He is delighted that two have already been sold since its launch only a year ago, with Van Oord ordering one, to be delivered at the end of the year and more recently, Maersk Supply Service (on a charter to DeepOcean) ordered another one, due to be delivered at the end of 2015.
"Adding these enormous carrousels make this vessel type well suited to the offshore wind industry. It is a very large and wide platform, combined with a lot of accommodation. It is a very cost effective ship because it has much lower fuel consumption, travelling at relatively low speeds."
"Furthermore, it is very flexible because the carrousel can be taken off and then there is a huge deck space available for deck equipment for other projects. There is a lot of interest from the offshore wind and oil & gas industry."
As well as these vessels, Damen has developed the Sea Barge, which is a very cost effective accommodation solution. With the broad portfolio of offshore wind vessels, are there any vessels where Mr Damen can see a role for Damen -such as in the jack up sector?
Smaller jack ups
Mr Damen is adamant that Damen will not be entering the large installation vessel sector – large self-propelled jack ups – but he says there may be a possibility in the smaller jack up market.
"We consider all vessels, estimating if we can bring something extra, some added value and we definitely have some more ideas where it comes to the maintenance market."
In the near term Mr Damen believes that the European offshore wind market will slow down compared to the projected growth figures. But he adds: "If less than half of the development happens it is still an enormous market and of course, existing wind farms have to be maintained for their lifetime. However, there are signals that there is some oversupply.
"It really depends on how the industry realises the cost reduction needed in the installation and maintenance sectors to achieve a sustainable model without the use of subsidies."
Damen recognises that there is enormous pressure to get the costs down and the shipyard group is playing a proactive role in contributing to making the industry more cost efficient. "We do this by standardisation, serial building, using proven parts… Our vessels are reliable and they help extend the operating window by being able to keep going in higher sea states.
"As a shipbuilding company we understand the challenges the industry faces so we can work together with our clients to reduce their costs, and in turn, the cost of producing wind energy."
Helen Hill