Vestas' Nacelle Stands Tall against Wind

Vestas has installed the nacelle of its V164-8MW offshore wind turbine at the Danish national test centre in Østerild, the company announced on its official social media page.
Vestas is now following the footsteps of Siemens, which had put its SWT-6.0-154 offshore wind turbine to test in 2012 in Østerild.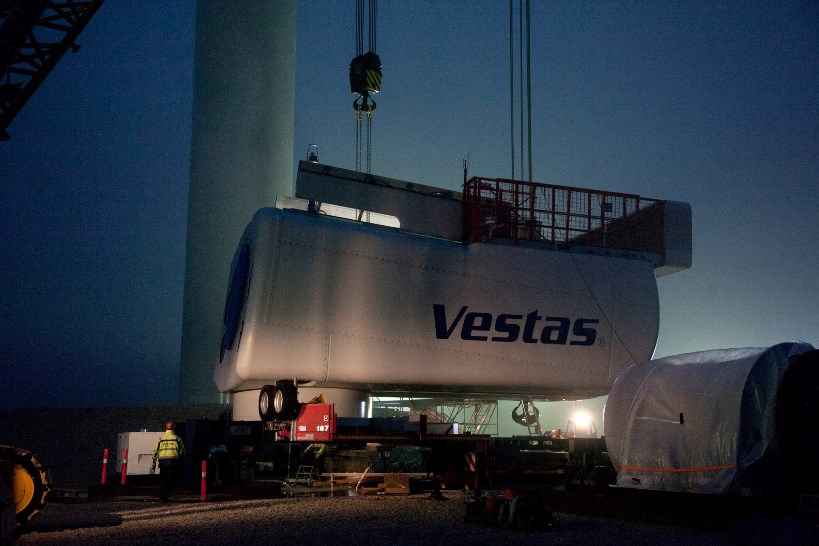 Vestas' nacelle was lifted into place on top of the 140 metre high tower, and is 20 metres long, 8 metres wide and 8 metres high. It weighs approximately 390 tons including the hub. Vestas added that preparations for the installation of three 80 metre long blades are now underway.
The installation of the wind turbine is scheduled to be completed in the following few months.
The V164-8.0 MW wind turbine prototype is being installed in Østerild for further tests, which will ensure the turbine's reliability and performance to provide certainty to customers looking to make investments in offshore wind. The turbine will be the world's most powerful, with one unit capable of supplying electricity for 7,500 average European households.
Related:

Denmark: Siemens Tests 6MW Turbine with World's Largest Rotor

Prototype Nacelle for Vestas' 8MW Wind Turbine Completed

Blades for Vestas' 8MW Wind Turbine Transported to Østerild, Denmark
[mappress]
Offshore WIND Staff, January 10, 2014; Image: Vestas