GDF SUEZ, EDP Renewables, Neoen Marine and AREVA Reassure OW Commitment

During a meeting with economic and political stakeholders in the French regions of Haute-Normandie and Picardie, GDF SUEZ, EDP Renewables, Neoen Marine and AREVA have reaffirmed their ambitions to develop innovative, concerted and local environmentally friendly offshore wind projects at the sites of Le Tréport (Haute-Normandie – 500 MW) and the islands of Yeu and Noirmoutier (Pays de la Loire – 500 MW).
Projects that create local jobs and economic activities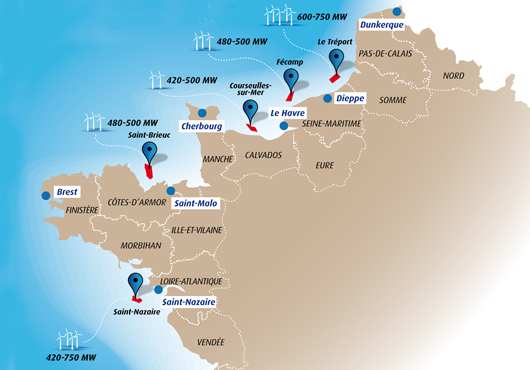 As many as 6,000 direct and indirect jobs could be generated, involving many local businesses. Supported by the local authorities, chambers of commerce, and industry, the consortium partners also met with more than 500 companies located primarily in Normandy, Picardy, Brittany, and Pays de la Loire, to build a local industrial ecosystem which will form the base of a robust French offshore wind sector.
These projects also support the development of the regional ports. At Le Havre, four plants will be established to manufacture the nacelles, blades, and other key components of wind turbines (bearings, multiplying gear, generators, etc.). In addition, the ports of Le Havre and Saint-Nazaire will provide support platforms for the construction of the wind farms. Moreover, the operation and maintenance centers will be installed at the ports of Dieppe and Tréport, as well as on the islands of Yeu and Noirmoutier, mobilizing local jobs as well.
Technological innovation is at the heart of the strategy
Research & Development also has a role to play in these projects. AREVA has announced the creation of an R&D center in Rouen with around a hundred engineers to reinforce cooperation already initiated by the consortium with local universities and research institutes to establish a French offshore wind industry, capable to export overseas.
AREVA's 8 MW wind turbine, selected by GDF SUEZ, EDP Renewables, and Neoen Marine, is a symbol of the technological excellence that characterizes the consortium's offer. Delivering optimum productivity and a reduction of up to 40% of the number of wind turbines for the wind farms, this turbine brings together the industrial experience and the recognized reliability of AREVA's technological platform in the offshore wind sector.
---
Press release, January 8, 2014; Image: developpement-durable