DECC OKs Dudgeon Offshore Wind Planning Variations

The UK Department of Energy and Climate Change (DECC) has approved Dudgeon Offshore Wind's application to vary the offshore planning consent.
Namely, after the acquisition of the Dudgeon Offshore Wind Farm by Statoil and Statkraft the variations were requested due to the structure of the seabed.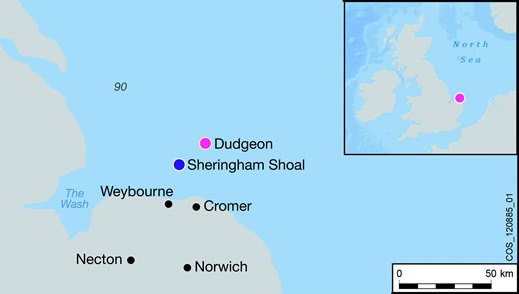 The review also indicates that in order to avoid the wake effect, the total capacity should be reduced from 560W to 400W.
Dudgeon Offshore Wind Chairman Mr Halfdan Brustad said: "This approval of the variation to the planning consent is excellent news for the Dudgeon Offshore Wind Farm project. Now I anticipate that the installed capacity of around 400MW will come from between just 50-80 wind turbines."
To avoid the high risk areas of mobile sand the red line boundary of the offshore wind farm site has been extended.
Offshore WIND Staff, December 27, 2013; Image: dudgeonoffshorewind