Wind farm support vessels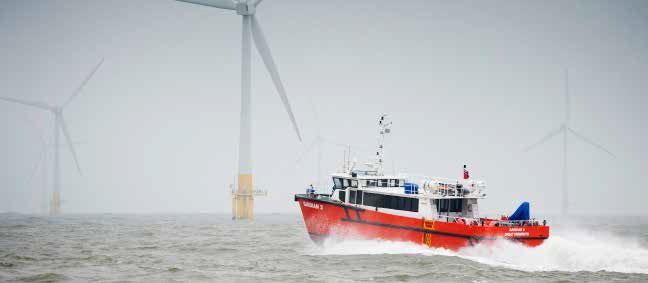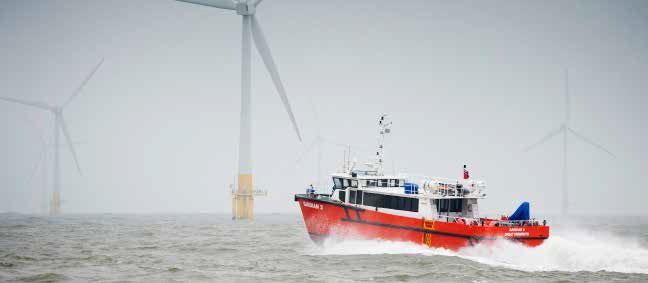 Since April 2012 the wind farm support vessel industry has experienced success and failure, both large and small. 2012 will be remembered for the number of new vessels built and delivered to operators, but predominantly it will be the collapse of South Boats Special Projects in the autumn that shook this sector of the industry the most.
It provided stark proof, if was needed, that the offshore wind industry is not immune to failure.
A few weeks later however alternative proof was provided that the sector remains sufficiently buoyant to attract several potential buyers and the one successful company with plans for the future of boat building in Cowes. There should be lessons learnt from this incident that, if heeded, will benefit all those involved in the sector.
The question of financing the new builds is certainly the most important factor when selecting the building yard and design of your new boat. Offshore WIND has published many articles under the broad heading of finance that have been written by various experts in this field. Listening to and reading from those who have experience, and then applying it, perhaps sometimes selectively, to your own experience could be regarded as the best way to survive and prosper.
We should be careful here because there is no failsafe guarantee to success in business. However, there is proof that there are some entrepreneurs in the industry who are following the guidelines and who are achieving good results and succeeding at all stages and scales of the support vessel sector, from design to operational stages, and from being small to large companies.
The boat builders have been busy this year. Hardly a week has passed without a delivery of a new support vessel. Yards not only around the coast of Europe but also in the Far East have delivered more vessels in the last 12 months than in previous years. The total costs of building the vessels in the Far East when added to the cost of delivering them to Europe are still low enough to attract orders. Some of these yards are owned and managed by European builders such as Damen. With offices in Europe this must surely make it easier for the prospective owner to talk with the builder throughout the build, and therefore save time and money by not having to fly to a yard abroad.
CTruk
New owner/operators have been attracted to the wind farm support vessel market. The combination of operator CWind and builder CTruk has provided a boat share initiative facility, which enables an experienced skipper, for example, to purchase a new build vessel from CTruk. On delivery the vessel goes straight to work with the CTruk sister-company, CWind, in their fleet of charter vessels. The CTruk 18.5m 20T vessel has already been covered by Offshore WIND in previous issues, and after having built ten of these vessels in 2 years, they have nothing left to prove to the industry. One of their recent 20T new builds, CWind Adventure, was delivered to W T G S Personnel Transfers Limited partners Peter Richards and Sally Arthey in March.
Peter is typical of this new breed of owner/operators, having been a commercial fisherman for many years. The coastal fishing industry has declined in recent years for various reasons, such as quota levels being reduced to avoid over-fishing of stocks in the waters around the British Isles, and Peter is not unique in making this move to wind energy. CTruk are proud that an ex-commercial fisherman with years of boat experience would choose their state of the art composite cat.
CTruk are now working on a larger 50T vessel. More details of this vessel will be ready for release soon. It is already known that it will be able to be fitted with an accommodation pod for up to 36 passengers and to have a length of 28m, and a beam of 9.5m. The number of passengers and the 50 tonnes cargo possibility will put it in a very different class of future WFSVs. There is a growing interest in this class of larger vessels and both builders and operators have expressed interest. There will be more to read on this vessel in the future in Offshore WIND.
Windcat Workboats
Another player in this class of larger support vessels is Windcat Workboats. Their 101 is capable of carrying 45 passengers at a top speed of 31kts and can not only carry the engineers out to an accommodation unit in the wind farm, but it can also stay out there for the daily transfers to the individual turbines. Since its launch and first operation in 2011 it has been able to prove to wind farm operators the advantages of its size of carrying much larger numbers of passengers and being more economical in certain circumstances. Windcat are working on plans for other larger vessels specifically for the wind farms further offshore.
Windcat are, however, still continuing with the vessels carrying 12 passenger in the meantime. Since the launch of the MK1 Windcat in 2004 the company is now building a new 18m series with specific attention paid to the design requirements specified by the charter client. The most obvious change from the Windcat MKs 1, 2 and 3 is that the design of this Windcat class of vessel includes a raised wheelhouse over the passenger area to enable a greater deck cargo area. The first of this class, Windcat 30, was delivered in December 2012 and the remaining 3 are due this year. The new vessels are being built in the Netherlands where a large part of Windcat's existing fleet has been built.
Damen
Building larger vessels is where Damen started in this market. The FCS 2610, configured for 12 passengers, is one of the largest vessels operating in the wind farm support vessel industry. Since the first one was delivered to Scottish owner Marineco at Seawork International 2 years ago Damen have built and sold a further 14 and are building 19 more to be quickly available to new buyers from stock. The ability to build for stock puts this international ship builder in an almost  unique position. With shipyards all over the world, they are able to build close to where a specific market exists, and also take advantage of the lower build costs incurred in the Far East, as mentioned above.
The vessel has proven to be popular with both the operators and the passengers. Being larger than most other support vessels it can sail comfortably in heavier seas. This has a two fold benefit. Firstly the passengers are less susceptible to motion sickness, and secondly the operator and charter client benefit from the vessel being in service longer. Marineco now operate 3 of the 2610. Other owners include GeoSea NV and SeaZip BV.
Of the FCS vessels already operated by Maritime Craft Services (Clyde) Ltd (MCS), MCS Sirocco and MCS Pampero are sailing out of Esbjerg, Denmark, working on an offshore wind farm and will be there until the end of 2013. MCS Blue Norther, MCS Levanto and MCS Boreas have just finished sea trials in Vietnam and will be transported to Rotterdam with delivery to MCS mid May. All three will go to work on Dan Tysk, Germany.
Unusually downsizing is a positive move with Damen. There is now a downsized little sister of the 2610 that is being built – the 2008. This vessel is 20m long with a beam of 8m. There are currently 4 of them being built for stock. As soon as the first one is in the water for testing Offshore WIND will report on the results and its progress. Maritime Craft Services (Clyde) Ltd has options with Damen not only for more FCS 2610's but also for the FCS 2008.
Enviroserve Ltd
Paul Lines is another example of a commercial fisherman working in the offshore wind industry. He started Enviroserve Ltd in 2003 when he realised fishing from Great Yarmouth was becoming less viable. Scroby Sands Wind farm was planned at that time for construction and he identified that as a good way to get into offshore renewable energy.
Using his fishing knowledge he got a vessel working as a crew transfer vessel and now has a fleet of 4 WFSVs. Two more, the Sea Fox and Sea Lynx, are being built by Navalu, on the Atlantic coast south of St Nazaire.
Enviroserve's manager, Ben Stebbing, coincidentally also an ex fisherman, told Offshore WIND that in order to survive a company should be willing to adapt its assets and modify budgets accordingly. "It is better to have your vessels at sea where they belong, even if they are not bringing in as much money as was originally budgeted. This helps to build up relationships with charter clients that will pay off in the long term." Keeping his crew together is another important result of this policy.
The Sea Fox is the first of the French built vessels for Enviroserve Ltd and will be delivered in June this year. It has been designed as a 'back to basics' vessel which takes advantage of modern designs and materials and utilises them in less complicated applications. The Sea Lynx will be delivered in March 2014. With this experience behind them Navalu should be well placed for orders for the French offshore wind companies.
After investing time and money on converting vessels and buying purpose built vessels for wind farm support work, Enviroserve have discovered an amazing fact… their best earning and most reliable vessel in their fleet is a boat they modified from a fisheries patrol craft to a 24hr wind farm support vessel!
Seacat Services
Seacat Services, from Cowes on the Isle of Wight, will have invested over £15 million in two years. A huge part of this amount has been taken up by their order of 6 vessels, 4 of which are already in operation and fully booked through 2013 and the remaining 2, the Seacat Defender and the Seacat Volunteer, due to be operational by late Q1/early Q2, and in Q3 of 2013 respectively.
Ian Baylis sees the investment, largely involved with the local economy on the Isle of Wight, as being an important step for the firm. The firm employs 6 full time office staff and a further 22 crew who are working on the 4 vessels. With Round 3 wind farms planned on either side of the Isle of Wight, the island is set for an economical boost.
Much of the wind farm activity in the past 2 years has taken place in the area covered by the British Admiralty navigational chart number 2182a.
This chart covers the southern part of the North Sea with the coastlines of Essex, Suffolk and Norfolk. Therefore it is hardly surprising that there are so many support vessel operators based near the coast line covered by this chart.
Njord Offshore
We have already mentioned CWind, based in Brightlingsea, Essex. Njord Offshore is another operator from Essex. Based in Tendering they recently have taken delivery of 2 BMT Nigel Gee designed vessels, the Njord Avocet and Kittiwake. Both were built in the Far East by Strategic Marine and shipped to Rotterdam. Eager to sail them to the UK, Njord's Director Tom Mehew was not put off by the forecast of bad weather, and the two vessels sailed to Lowestoft in force 7 winds and seas of up to 3.5m – a good opening test for the new vessels and one in which they performed excellently. Further testing is currently taking place as this article is being written.
Four more vessels are due in 2 further shipments from Strategic Marine in the next 4 months. The vessels are the Njord Curlew and Lapwing, due in Antwerp in May, and the Njord Petrel and Puffin due in July.
East Coast Companies
Further up the coast in Great Yarmouth, Norfolk, Iceni Marine Services was formed in 2009. The company's experience is based on over experience is based on over twenty years working within the North Sea oil and gas industry. With 5 vessels in the 15m range they are now waiting for the delivery of a 24m vessel which is currently being built by South Boats.
Even further North at the appropriately named village of Docking, near to the small port of Wells next the Sea, the offices of Tidal Transit are based. The company has two vessels, the Eden Rose and Ginny Louise, already in operation and a 3rd vessel, Tia Elizabeth, which, as this article is being written is due to be delivered in March 2013. All three vessels are built by Mercurio Plastics Shipyard in Spain.
MPI Workboats
MPI provides a total marine service to the industry. MPI Offshore operates three large wind turbine installation vessels and MPI Workboats eight South Boats built support vessels. There were also four 19m support vessels ordered from South Boats before the restructuring of the company late last year. These four vessels remain on order from the newly formed South Boats IOW Ltd.
MPI Workboats have several of their vessels specifically designed and built for the dimensions of the lock gates at Grimsby. Recent news from Grimsby that the lock gates are being modified will mean that longer vessels will soon be able to enter the fish dock. The width restriction will remain the same, however. Grimsby is already a major O&M hub for several wind farm operators in the North Sea and set for expansion in the future. This can only be good news for MPI Workboats and the industry in general. MPI Workboats see the company as being an integral part of the future of the offshore wind farm industry. The impact of the ever increasing number of offshore wind farms coming into operation (to a large degree due to the work of the three MPI Offshore WTIVs), as seen by General Manager, Leslie Robertson, "will become increasingly important over the next few years and our vessels have been designed to meet the changing and ever-more-demanding requirements of supporting offshore wind farms."
ABEKING & RASMUSSEN
In Germany ABEKING & RASMUSSEN Schiffs- und Yachtwerft Aktiengesellschaft have designed and built a 20m SWASH vessel (Small Waterplane Area Single Hull).
The Explorer is just less than 20.5m long, with a beam of 12.6m, and a draught of 3.10m. It is similar to the larger SWATH vessels except that it has only a single hull, and 2 outriders for stability. The vessel is currently being tested for eventual work as either a pilot vessel or a personnel transfer vessel. This prototype vessel has features which would not necessarily be needed for one or the other task, such as the heavy fendering and the extendable gangboards on both sides. Capacity is foreseen for 12 service personnel.
Veka Group
BMT Nigel Gee have been responsible for the design of several of the vessels in this article, and for this reason the Veka Group in Werkendam, the Netherlands, called upon the British company to design their first vessel for the offshore wind energy sector. The combined experience of BMT Nigel Gee in design and Veka in engineering enabled Veka to build a vessel that weighs about 20% less than contemporary vessels. This important point alone results in a considerable saving in fuel consumption.
Although designed initially with the wind energy market in mind the 19m aluminium catamaran is so versatile that it would be at home in any offshore operations, and it is probable that their first vessel, named Whale of the Waves, will be deployed in another offshore energy market.
The shipyard in Werkendam is now working on the build of a second 19m vessel as this article is being written. Veka's design engineers, however, are not stopping at 19m. As are other builders mentioned earlier in this article, the engineers at Veka are currently working on the design of a larger vessel, probably around 24m, for work on wind farms situated further out at sea.
Offshore WIND will follow the development of this larger vessel with interest and report to our readers in a later edition.
Alicat Workboats Ltd & South Boats IOW Ltd.
The big news of the past 12 months in this sector has been about South Boats foundering in deep water and then accepting the life line thrown by Alicat. Poetic prose apart, Alicat, the Great Yarmouth aluminium boat building company, has seen an opportunity that should not be missed and taken it on. The finances of the situation are not for reporting in this article, but what is for this article is a report on the order books and plans of the 2 companies.
It is now clear that the 2 companies will continue, at least for the foreseeable future, as separate 2 companies with their individual product ranges as before. The fact remains though that together they make a formidable combination, with the ability to share technology, experience and R&D. Both companies have orders to work on, and both companies have new developments in the pipeline.
Recognising the trend for larger vessels up to 28m, South Boats IOW Ltd., on the Isle of Wight have established a research and development program for the industry's largest "wind farm specific" vessel hull form. Testing in tanks and in open water with extensive monitoring to determine what exactly will make these vessels become unique workhorses is a major part of this program. This is in response to the German market with wind farms already in more distant waters. The trend can only become stronger with further Round 3 developments in the UK. Smaller vessels up to 24m are on the order book and being built for 3 operators. These vessels will be delivered in 2013 and 2014. New design features are also developing apace, embodied in a new 22m vessel, utilising the findings of this research. We have been told that new features include a higher "wet deck" and new stem profile.
In Great Yarmouth, Alicat also have new vessels in their portfolio. New designs are included in the current 22m, 19m and 17m new builds in progress now and due for delivery in this summer. In response to client requirements they have brought in many new features. A raised wheel house on a deck higher than the passengers and a forward cargo deck provides more deck space for example.
New orders received this year from E.ON will keep the yard busy with 4 new builds of crew transfer vessels between 12m and 20m specifically designed for the E.ON Humber Gateway and Robin Rigg projects. Also in Great Yarmouth they have now set up new divisions most notably Alicat Marine Electrical, with the ability to carry out electrical design work not only in house for the two companies but completing major contracts around the UK.
They are not only staying in Great Yarmouth. Alicat Marine Design is an independent 'design house' based in Southampton to serve the design requirements of both companies. This new division is already completing projects for companies outside the group.
In response to demand for better servicing of crew transfer vessels in their yard they have filled in the old Richards dry dock and built a new lifting dock and installed a 200t, 11m wide, boat hoist in its place. As far as the builders are concerned the buzz word appears to "BIGGER" in every dimension.
Windcarrier
The Fred Olsen company, Windcarrier has 6 vessels in in operation, Bayard 1 to 6, and is still expanding with the next delivery, Bayard 7, which is expected to be delivered about the time that this issue of Offshore WIND is being printed. The Bayrad class is built to DNV standard Windfarm Service 1 and is capable of 25kts transit speed. The vessels have a large foredeck, 6m x 8.5m, capable of an 8t load in 2 10ft containers. A 3t deck crane fitted on the foredeck completes the cargo facilities. Last year the Bayard 3 carried the Osbit Power innovative offshore wind turbine access system, MaXccess for testing.
Supacat
Supacat is an innovative engineering and design house that has a pedigree of producing and supporting high-mobility, all terrain vehicles. Substitute 'all terrain' by 'maritime' and let's see what happens. The build of their new concept offshore support vessel, Supacat Multi-purpose Vessel 24, has been awarded to Mustang Marine (Wales) Ltd. The first vessel is being built at the Pembroke Dock facility and is scheduled for launch in August this year. The Supacat experience includes the RNLI Shannon class lifeboat, so we should be seeing something special this summer.
Workships Contractors BV
With all 10 of their vessels currently on charter or being upgraded in dock Workships Contractors BV are working on a program that will eventually see the installation of the BMO VesselBlackBox (VBB) units on all their vessels. The VBB was trialled on the Spike Islander on the Prinses Amaliawindpark in 2012 and is currently installed on the Offshore West Hinder. The VBB offers vessel and/or wind farm operators the ability to monitor and record vessel motions including Whole Body Vibration and Motion Sickness as well as providing HD Video footage of each landing at a turbine so that each transfer is recorded for accident investigation or crew training purposes. The VesselBlackBox monitors a vast range of parameters during the voyage including the effects of the sea state, vessel speed and course, data from the engine rooms, and pressure on the fender when pressing against the TP. BMO provides the client with a Monthly Management Report which provides clear analysis of the data to enable management decisions relating to future operational improvements, lower fuel costs and lower maintenance costs.
Another addition to the list of specifications for the Offshore West Hinder is that it is now rated as a High Performance vessel by Greater Gabbard operator, Greater Gabbard Offshore Winds Limited. This endorsement rates the vessel for operation in seas up to 2m.
Conclusion
Offshore WIND asked one of the managers of a vessel operator based on the East Coast to give our readers an operator's view of the current market from the 'hands on' end of the market. This is what he told us: "The rapid expansion in vessel builds during 2012/13 and the delays in some projects have caught some owners off guard with too many tied up during Q1 of 2013. Projects on the continent will soon sweep up the Class approved vessels which we expect will then increase the demand for vessels here in the UK."  We agree with him on this and would add that it is the opinion of Offshore WIND that "Class approval" is the key here.
The vessels in this article are really just ordinary boats but with technology used to the power of N. This is not to say that they are not cutting edge technology because that is exactly what they are. cutting edge existing technology. There is a new level of technology on the way, though. In the TechTalk article written by Phil de Villiers in this magazine he gives our readers a glimpse of this new level of technology and some of what we might expect to see in the WFSV reviews of the future editions of Offshore WIND.
Dick Hill