UK: Edward Davey Introduces Energy Bill to Parliament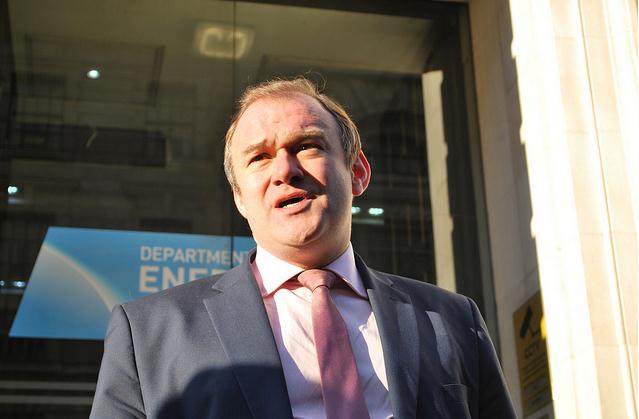 Essential legislation to power low-carbon economic growth, to protect consumers, and to keep the lights on was introduced to Parliament by Edward Davey today.
Following extensive consultation and pre-legislative scrutiny, the Bill sets out radical reforms to the design of the electricity market that will kick-start a renaissance in construction of low-carbon energy infrastructure and in low-carbon manufacturing supply-chains.
 The Energy and Climate Change Secretary said:
"The Energy Bill will attract investment to bring about a once in a generation transformation of our electricity market, moving from predominantly a fossil-fuel to a diverse low-carbon generation mix.
 "This is the culmination of two years' work in designing a new market-based approach that will deliver certainty for investors and fairness for consumers.
 "The challenge is big. Over the next decade, the investment needed to upgrade our energy infrastructure is almost half of the infrastructure investment needed in the UK. This is far more than is taking place in transport, in telecoms, or in water, and dwarfs the investment that was needed for the Olympics or Crossrail.
 "The Bill will support the construction of a diverse mix of renewables, new nuclear, gas and CCS, protecting our economy from energy shortfalls and significantly decarbonising our electricity supply by the 2030s as part of global efforts to tackle climate change.
 "This is an economic opportunity – there for the taking. It will stimulate supply chains and support jobs in every part of the country, capitalising on our engineering prowess and our natural resources, cementing the UK's place at the forefront of clean energy development.
 "In an era of rising global energy prices, by shifting to more home grown sources of power and by becoming more energy efficient, we can cushion our economy and households from the fluctuations of world gas markets. We intend to underpin this with reforms to the retail market to simplify tariffs and make sure consumers are able to get the best deal for them."
Oversight of the nuclear industry will be enhanced through creating an independent statutory nuclear regulator, the Office for Nuclear Regulation.
Ofgem's role will be better aligned with Government priorities and strengthened to safeguard consumers. As part of this, energy companies will be required to pay compensation to consumers as well as to the regulator Ofgem.
During the passage of the Bill, proposals will be added to ensure energy companies help consumers to get on the best energy tariff, and to promote energy efficiency through electricity demand reduction.
Government will also take powers to set a decarbonisation range for the power sector for 2030, a decision to exercise this power will be taken once the Climate Change Committee has provided advice in 2016 on the fifth Carbon Budget, which covers the corresponding period (2028 – 2033).
Government's energy policy, set out in the Annual Energy Statement published today will help keep bills down in future, with current analysis showing that the average household bill will be 7% or £94 lower in 2020 than it would be without low-carbon energy policies being pursued .
To further safeguard the competitiveness of Energy Intensive Industries (EIIs) that are particularly exposed to energy costs, Government has agreed to exempt some EIIs from any additional costs arising from the contracts for difference. This proposed exemption will ensure the UK retains the industrial capacity to deliver a low carbon economy. The exemption will be subject to State Aid clearance from the European Commission.
 The Bill outlines reforms to the electricity market to attract record investment:
 Contracts for Difference (CfDs) will stabilise revenues for investors in low-carbon electricity generation projects helping developers secure the large upfront capital costs for low carbon infrastructure while protecting consumers from rising energy bills;
A new Government owned company will act as a single counterparty to the CfDs with eligible generators; This was a key recommendation of the ECC Committee, and has been welcomed by industry and investors. We also intend to develop a two stage process in which projects are able to apply for a CfD once they have cleared meaningful hurdles such as planning permission and a grid connection agreement, and then a small number of hurdles post CfD-award in order to retain the contract.
Government is taking powers to introduce a Capacity Market, allowing for capacity auctions from 2014 for delivery of capacity in the winter of 2018/19, if needed, to help ensure the lights stay on even at times of peak demand. A Capacity Market will provide an insurance policy against future supply shortages, helping to ensure that consumers continue to receive reliable electricity supplies at an affordable cost.
National Grid the System Operator is to be appointed to deliver the Electricity Market Reforms, including CfDs, administer the Capacity Market and provide analysis and evidence to Government. The Bill also provides Government with powers it may need to manage any conflicts of interest relating to this appointment.
A Final Investment Decision Enabling (FID) Enabling process will enable investment in low-carbon projects to come forward for early projects, guarding against delays to investment in our energy infrastructure.
Transitional measures will allow renewable investors to choose between the new system and the existing Renewables Obligation which will remain stable up to 2017.
Government will take additional powers so that if necessary, they can promote greater competition and liquidity in the wholesale market.
An Emissions Performance Standard (EPS) will curb the most polluting fossil fuel power stations, ensuring that any new coal fired power stations will have to have CCS fitted to be able to operate within limit.
Government has already legislated to establish a Carbon Price Floor from April 2013, to underpin the move to a low-carbon energy future.
[mappress]
Press release, November 29, 2012; Image: decc