UK: 3sun Group Launches Great Yarmouth Headquarters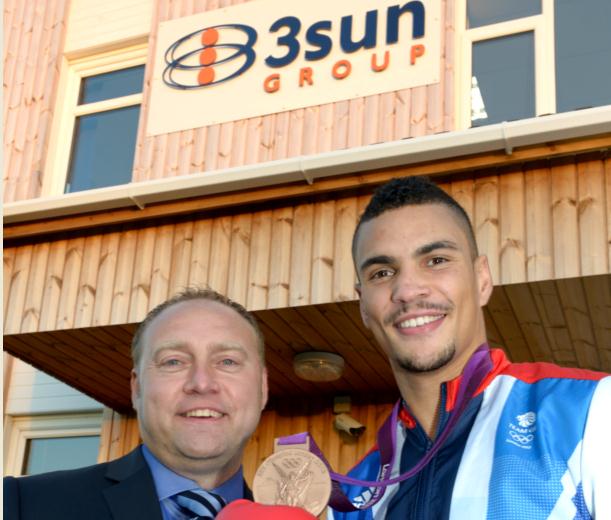 3sun Group, a specialist provider of products and services to the energy industry has officially launched its new Great Yarmouth Headquarters following an investment of £500,000 into the facility.
Team GB Olympic Bronze Medallist Anthony Ogogo, from the Lowestoft area, officiated at the event and presented a plaque to 3sun Group managing director Graham Hacon to mark the special occasion. He took time to commend the company on its success to date; the employees for their hard work and also spoke about his Olympic achievements.
The Group's commitment to the new HQ at Boundary Road in Great Yarmouth will see the office and workshop facilities brought together on one site for the first time and will provide a base which can handle the company's current rapid expansion and future growth plans.
The new premises will provide over 10,000 square foot of additional space compared to its current facilities in Beacon Park, Gorleston and will now also have the benefit of a secured yard for the growing business.
Graham Hacon, managing director at 3sun Group, said: "Our growth plans are currently going full steam ahead and I am delighted to announce this investment in our future. It has taken time to find the right location and we are delighted to be now operating from one integrated site.
 "The building underwent major refurbishment before we could relocate and we are grateful to everyone involved in getting the premises finished. By investing in our Great Yarmouth base we are investing not only in the company's future but in our employees and in the local area also and although we will continue to grow internationally our headquarters will remain here.
 "3sun Group has expanded rapidly over the past five years and I am keen for the next five years to surpass this success. We currently employ 175 people many of whom operate from our Great Yarmouth base, the new facility will be able to accommodate up to 300 personnel ensuring the future growth plans for the business can be achieved.
 "We aim to recruit at least 12 people in Great Yarmouth by the end of the year, and as we secure more contracts on and offshore the UK and across the world we will continue to recruit," he continued.
The company has experienced significant growth in the past five years since its inception, taking employee figures from 1 to 175, establishing additional UK bases and the Norway base, expanding into renewables with the acquisition of Dawson Energy and developing its safety monitoring device, the RFID tagging system.
3sun Group has enjoyed great financial success over the past two years with turnover increasing from £2.4 million in 2010 to £6.5 million in 2011 and achieving almost £12 million in 2012.
3sun Group comprises 3sun, a supplier of instrument and control products and services, 3sun Inspection Services which offers a full range of equipment inspection and testing services in the energy sector and Dawson Energy, an industry leader in delivering installation, and maintenance services for wind turbines.
3sun Group is headquartered in Great Yarmouth, England, and also has bases in Aberdeen and Oban. 3sun has recently opened a further operational centre in Bergen, Norway to help support ongoing rapid growth and is currently looking at other UK and overseas locations.
3sun Group employs over 175 staff working both on and offshore and has worked on Energy projects all over the world including UK, Malta, Tunisia, Ghana, Singapore, Angola, Ivory Coast, Ireland, France, Denmark, Sweden, the USA and New Zealand.
[mappress]
Press release, November 26, 2012; Image: thinkpr