Israel: Eco Wave Power Recognized with 2012 European Frost & Sullivan Award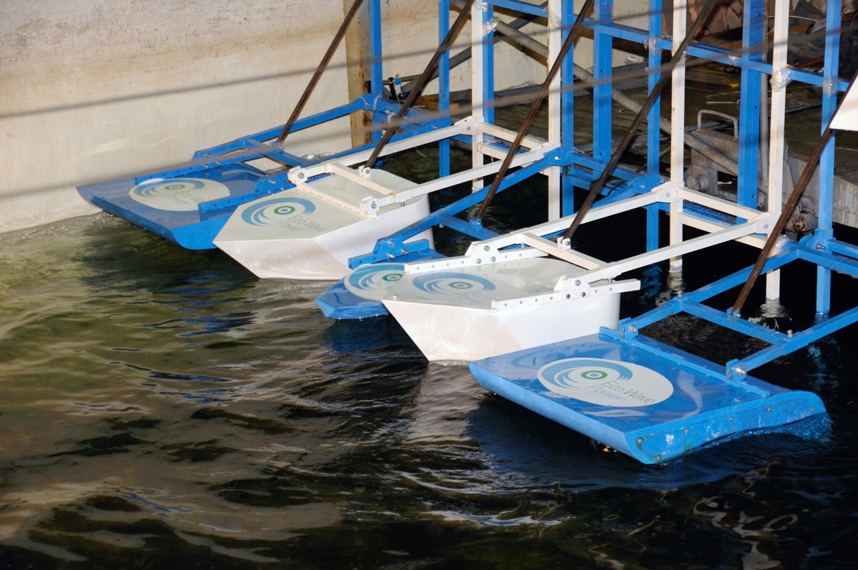 Based on its recent analysis of the wave energy generation market, Frost & Sullivan recognizes Eco Wave Power with the 2012 European Frost & Sullivan Award for New Product Innovation for developing and implementing an all-round solution for effective energy harvesting from waves.
 "Driven by the energy crisis around the globe, an escalation of activities in newer forms of renewable energy has been observed by Frost & Sullivan global monitoring," said Frost & Sullivan Research Analyst Avimanyu Basu. "In this regard, Eco Wave Power has emerged to become a strong participant in the wave power sector, where the company is targeting to efficiently produce energy at an affordable price range."
Wave energy comes with its share of limitations that need to be properly addressed by the agents harvesting the energy. For instance, making the solution cost-effective, maintaining the floaters, finding the correct placement to leverage wave height without exposing the devices to rough weather, among others.
Eco Wave Power, which was founded by David Leb, concentrates mainly on exploiting the maximum possible energy from waves at a reasonable deliverable price. The organization cleverly undertook the challenge to achieve the balance between exploitable energy available from the waves and ensuring longevity and durability of the system at the same time. This critical balance point is determined on the basis of four decisive factors; floater shape, specific designs with respect to geography, adaptability and last but definitely not the least, economic viability.
Eco Wave Power implemented its proprietary technology in its floaters "Wave Clapper" and "Power Wing." The two separate designs achieve maximum efficiency in energy generation in environments with less space to accommodate floaters, as well as in places where there are opportunities to exploit waves of different heights. These floaters bear no resemblance to the prevailing shapes like cylindrical, square or simple round shaped floaters. Stable at different wave heights, their unique design utilizes wave effects such as lifting force, Archimedes power, change of water level, and incident flux of waves to generate energy.
 "Since only a small percentage of the system lies in water and the remaining equipment is onshore (just like a regular power station), it is far more convenient, easy and cost effective to fix, repair and maintain the equipment as compared to off-shore technologies," added Avimanyu. "Durability of the system is further enhanced by employing three different storm protection mechanisms, corrosion protection, shock-wave protection mechanism, lever regulation mechanism, float position regulation protection mechanism and an effective energy control system."
Eco Wave Power is confident about a fast customer return of investment (ROI), considering its viable construction and production prices along with high tariffs for every kWh of wave energy. The attractive price factor is competitive to other sources of renewable energy, such as solar, wind, hydro and conventional modes of energy generation, like oil, natural gas and biofuel. For example, a solar power panel provides a ROI in about 10 to 15 years, while the equipment by Eco Wave Power ensures a return in 3 to 6 years, along with an average longevity of 30 years for the equipment.
Further, the company's strategy is to deliver and commercialize technologies quickly rather than continue research activities for 5 to 15 years. It uses its existing deployments to continuously improve on ideas and technologies.
The technology was initially tested in the Hydro-Mechanical Institute in Kiev and the Protocol submitted to Eco Wave Power has approved the workability of EWP's technology.
During the month of April 2012, Eco Wave Power has successfully installed a medium-scale power plant, in the Black Sea.
The sole inventor, owner and developer of its unique technology, Eco Wave Power is open for collaborations with any organizations globally that are interested in researching, harnessing or investing in wave energy.
 "Due to its control and ownership of the technology, Eco Wave Power is capable of supporting different project structures such as Build, Own, Operate (BOO), Build, Operate, Transfer (BOT), Build, Own, Operate, Transfer (BOOT), Build, Lease, Transfer (BLT), and Build, Lease, Operate, Transfer (BLOT) projects," noted Avimanyu. "This functionality is expected to enhance its prominence in the existing wave energy industry and facilitate other penetration strategies including joint ventures and exclusive and non-exclusive technology licensing agreements, as well as pursuing original equipment manufacturer (OEM) and operation and maintenance (O&M) agreements."
For effectively overcoming the challenges it the field and enabling the production of affordable renewable energy, Eco Wave Power is the deserving recipient of the 2012 Frost & Sullivan New Product Innovation Award. Each year, Frost & Sullivan presents this award to the company that that has developed an innovative element in a product by leverage leading edge technologies. The award recognizes the value added features/benefits of the product and the increased ROI it offers customers, which in turn increases customer acquisition and overall market penetration potential.
Frost & Sullivan Best Practices Awards recognize companies in a variety of regional and global markets for demonstrating outstanding achievement and superior performance in areas such as leadership, technological innovation, customer service, and strategic product development. Industry analysts compare market participants and measure performance through in-depth interviews, analysis, and extensive secondary research in order to identify best practices in the industry.
About Eco Wave PowerEco Wave Power is the first wave energy company to ever win the Frost & Sullivan Product Innovation Award.
The company has developed proprietary technology for extracting energy from ocean and sea waves and converting it into electricity. Such technology enables to deliver effective, sustainable wave energy solutions, for affordable electricity prices.
The Eco Wave Power wave energy converter is a simple and inexpensive technology to harvest wave energy from high and low waves, while offering technical advantages over competing systems.
The EWP system is being developed to produce electricity for cheaper price than traditional energy generation methods such as oil, coal and gas, and also cheaper than renewable energy generation methods such as wind and Solar.
Eco Wave Power is the sole global inventor, owner and developer of the unique EWP wave energy device. The company designs, manufactures, and operates the EWP wave energy convertors.
[mappress]
Offshore WIND staff, August 01, 2012; Image: ecowavepower