UK: DECC Congratulates OSBIT Power on Success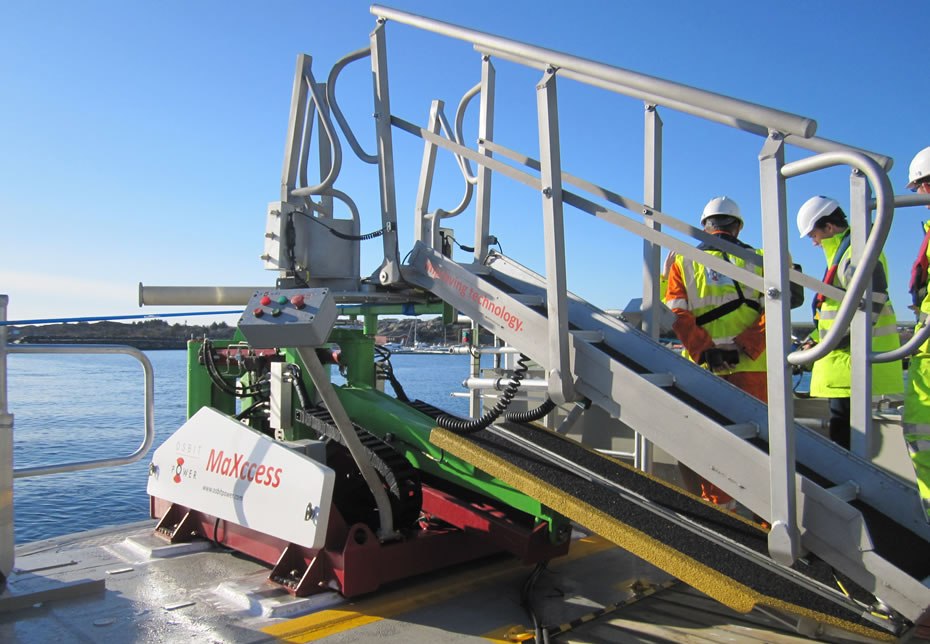 Within a one month period OSBIT Power (OP) has received orders for their MaXccess wind turbine access system from both Siemens and Scira Offshore Energy (Scira is a joint venture between Statoil and Statkraft and owns the Sheringham Shoal offshore wind farm), positive feedback from E.ON following trials, and a message of congratulations from the Department of Energy and Climate Change (DECC) via 10 Downing Street.
Dr Tony Trapp, Chief Executive of the innovative company based in Northumberland in the north east of England, takes up the tale: "It really has been a most exciting and rewarding month, and marks the culmination of two very hard years of work perfecting the MaXccess system, and ensuring maximum awareness of its qualities. We were confident that once it was tested by stakeholders they would be as enthusiastic as we are about it, and this has certainly proved to be the case." 
The MaXccess system creates a stable platform from which personnel can transfer to and from wind turbines. The system clamps on to either of the vertical buffer tubes of a standard boat landing, allowing the vessel to roll, pitch and yaw freely, while preventing vertical bow motion. The secure and measured connection is created without the need for active compensation or prediction of vessel motions. Users have the confidence that they will be transferring to and from the turbine via a stable platform and will not be exposed to sudden heaving of the vessel.
Siemens purchased the very first MaXccess system following testing in Norway at the Hywind Demo site by a strategic alliance comprising Siemens, OSBIT Power, Statoil and Fred Olsen Windcarrier. Siemens, which operates a Zero Harm health and safety policy, will apply the system on a wind project up to 30km offshore to increase experience and identify further optimisation opportunities before wider deployment. By using the system Siemens aims to significantly improve safety at sea for its technicians and help reduce the overall cost of offshore wind. Siemens' MaXccess will be operational in August.
Hot on the heels of the Siemens purchase came news that Scira Offshore Energy, operator of the Sheringham Shoal offshore wind farm, will similarly use the MaXccess to provide its wind farm technicians with safe and reliable access to wind turbines in a range of weather conditions. In this instance MaXccess will be used on wind farm support vessels, such as the South Boats design, and will be delivered in October following manufacture.
No sooner had that news been announced than E.ON publicised the fact that they had successfully trialled MaXccess on their Scroby Sands wind farm, highlighting the fact that "this is an innovative solution that could be used in commercial operation in the near-term".
And to cap it all came the message of congratulations from DECC. "In all honesty, we triggered this," explains Tony Trapp. "We heard news of the Sheringham Shoal contract at the time the Prime Minister, David Cameron, was making a very brief visit to Norway, and wrote asking him if he would like to make a comment on our success. Back came first a letter from 10 Downing Street, and then the following message from DECC: 
"We congratulate OSBIT Power Ltd on the successful offshore trials of the MaXccess system on Statoil's Hywind Demo floating offshore wind turbine and E.ON's Scorby Sands wind farm. This has led to the first two commercial orders of the MaXccess system by Siemens and Scira Offshore Energy. 
"Allowing personnel to safely access offshore wind turbines in more difficult sea conditions, reducing the cost and increasing the safety of offshore wind, are important for the successful growth of the offshore wind sector. OSBIT Power's success is a clear example of how UK engineering firms are leading the development of innovative solutions to help increase the safety and reduce the costs for the offshore wind sector. 
"The Department of Energy and Climate Change (DECC) is pleased to be providing support for innovation in the development of the next generation of MaXccess technology through our Offshore Wind Component Technologies Scheme." 
[mappress]
Offshore WIND staff, July 13, 2012; Image: OSBIT Power