Germany: PCS to Present Green Line 3000 LVRT Solution at HUSUM WindEnergy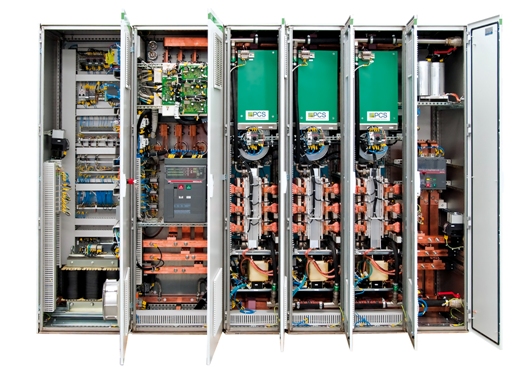 PCS Power Converter Solutions GmbH in Berlin is further expanding its portfolio for generating electricity using wind turbines. The new Green Line Grid Stability product line supplements the existing product range to ensure the low voltage ride through capability (LVRT) of wind turbines. PCS will present examples from the Green Line Family of full power converters as well as a grid stability solution from September 18 – 22, 2012, at the HUSUM WindEnergy trade fair in Hall 3 at Booth 3A11.
New, innovative and interesting approaches to wind energy are not only a result of the upcoming HUSUM WindEnergy trade fair – the necessity for innovation in the field of wind energy is growing of its own accord as wind energy becomes increasingly established in the worldwide energy mix and the number of installed systems rises.
The industry must remain innovative in all areas in order to continue this pattern of growth – from the political framework and legal regulations, to creative business models, all the way to technical solutions and the resulting product design.
Larger, more durable, more powerful, and above all low-maintenance, these are the requirements that are placed on the wind turbines of the future. This also demands new levels of performance from the development departments in the supply industry.
In order to be able to ensure power supply using wind energy while meeting the requirements for optimum grid compatibility and a high level of energy output, wind turbines need reliable and efficient frequency converters. The PCS Green Line family of power converters offers a wide range of applications and systems to meet this need.
Full power converters for total yield and optimal grid integration
Full power converters for synchronous generators are currently the fastest-growing technology on the wind market. Synchronous drives offer an extremely high energy output and can better fulfil the grid requirements in connection with the full power converter. At HUSUM WindEnergy, PCS will be demonstrating all aspects of their full power converter solution: from its monitoring and control functions to its modularity and flexibility all the way to its partial load capability.
The PCS Green Line full power converters rely on liquid-cooled IGBT-based 4-quadrant converters. Each power module offers an output of up to 500 kW (620 kVA). The inductor-type parallel circuits make the converters scalable in 500 kW increments, which means they can be used flexibly. PCS is also currently developing an innovative integrated overall solution for converting wind energy to electricity.
The PCS Green Line System complete solution is a sophisticated integrated power generation system comprised of power converters, generators, transformers as well as control units for the entire system. The basis for the successful establishment of PCS Green Line Systems on the market is PCS' intensive cooperation with partners who can offer many years of experience in the industry and are deeply committed to the continued development of wind energy.
New dimensions of grid stability for new systems and for retrofitting
Due to stricter international grid codes, wind turbines may no longer disconnect from the grid in the case of a grid breakdown. This means that primarily old systems and specific generator concepts are technically overwhelmed. To combat this problem, PCS will be presenting their current product solution for grid stability at HUSUM WindEnergy.
The established Green Line 1000 reactive current converter has been supplemented to create a complete solution for low voltage ride through (LVRT) – the Green Line 3000. This solution does not disconnect from the grid during a grid breakdown (LVRT), thus fulfilling all of the international grid code requirements for wind turbines.
By not only providing reactive power, but also maintaining generator voltage, the Green Line 3000 reduces the strain on mechanical components and ensures a stable energy output, even during a grid breakdown. As both a solution for retrofitting or for installation in new systems, the product can easily be integrated into any system.
The Green Line 3000 LVRT solution is available for various performance classes. Since it is only used for brief periods of time, it requires no additional cooling system. Together with the Green Line 1000 reactive current converter, PCS offers a complete solution that allows systems to reliably stay operational during drops in voltage and continuously produce energy.
This technology has been tested under the most difficult climate conditions – including in the largest test center for wind turbines in China. This makes PCS an even greater expert in the area of wind turbine grid integration.
[mappress]
Offshore WIND staff, July 13, 2012; Image: PCS