UK: SMD Presented with Queen's Award for Enterprise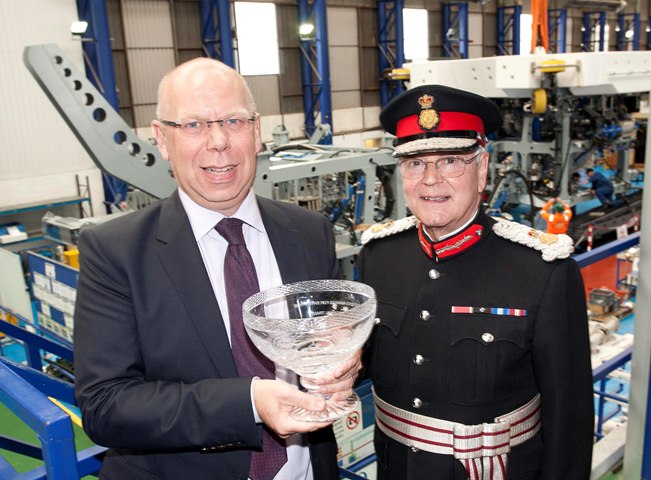 SMD has been formally presented with a Queen's Award for Enterprise by the Lord-Lieutenant of Tyne and Wear.
The Lord-Lieutenant, Mr Nigel Sherlock, presented the Award in the International Trade Category as part of a visit to SMD's head office and manufacturing facilities in Wallsend, North East England.
The company is one of the world's leading manufacturers of remote invention equipment, which is operated in hazardous environments across the globe. As part of the visit the Lord-Lieutenant was given a tour of SMD's heavy production facilities where he viewed some the of the company's latest trenching vehicles.
SMD's latest development, the Atom work class ROV system, has been exported to customers in South East Asia and the Mediterranean. The Atom is an ultra-compact work class ROV, which is suitable for subsea drill support, inspection, repair and maintenance, survey and light construction and can be mobilised on vessels and rigs with limited deck space.
Other significant international markets served by SMD include Brazil, China, Egypt, Japan and Singapore.
Across its five business streams (ROVS, Trenching, Renewables, Nuclear and Mining) SMD has experienced continued growth. In 2010 the company employed 136 staff, numbers are now approaching 500. This growth has enabled the expansion of the company's manufacturing facilities in North East England.
SMD, which is a member of business development organisation, NOF Energy, recently opened its third production facility, Neptune Works, a 37,000 sq ft launch and recovery systems (LARS) manufacturing operation.
A fourth facility was also recently opened at the Oceana Business Park, which is close to SMD's Turbinia Works head office and heavy production facility. The new facility has been specifically designed to house construction of three subsea mining vehicles for Nautilus Minerals Inc. and will create a further 12,000 sq ft of workshop space.
This is the second Queen's Award the company has won in the last two years. In 2011, SMD was presented with the Queen's Award for Innovation for its work class ROVs.
 Andrew Hodgson, Chief Executive of SMD, said: "Winning consecutive Queen's Awards for Enterprise is an outstanding achievement for the company and recognition of the exceptional work of our team. We were delighted to welcome the Lord-Lieutenant who was very impressed by the progress the company has made since we won the Queen's Award for Innovation in 2011.
 "We have achieved significant growth in recent years through the penetration of international markets and new and existing industry sectors, which has enabled the continued expansion of our workforce and investment in new facilities and innovative manufacturing processes."
 Joanne Leng MBE, Director Business Development at NOF Energy, said: "SMD continues to be one of the biggest success stories of the UK energy sector supply chain. Winning The Queen's Awards confirm the reputation the company has in global energy markets for quality, innovation and excellence and represents the talent and expertise the UK has to offer."
[mappress]
Offshore WIND staff, June 28, 2012; Image: smd