France: GDF SUEZ, VINCI, CDC Infrastructure and AREVA Set for Offshore Wind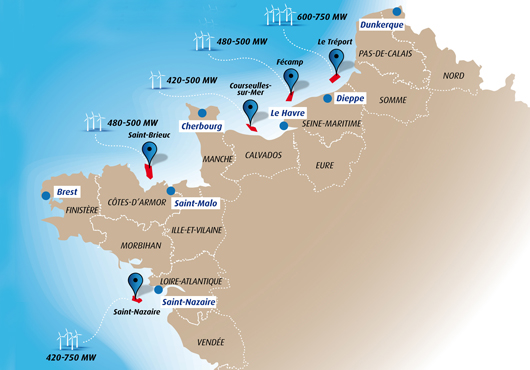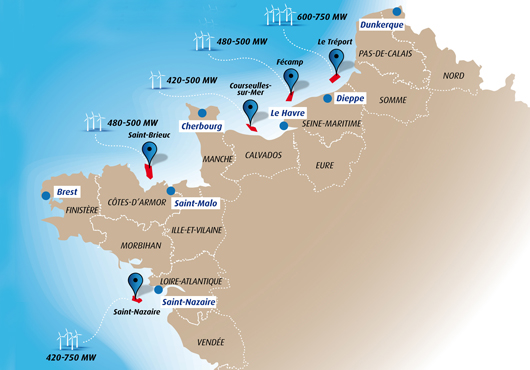 In Normandy today, GDF SUEZ Chairman and CEO Gérard Mestrallet, VINCI CEO Xavier Huillard, CDC Infrastructure CEO Jean Bensaïd and AREVA CEO Luc Oursel highlighted their energy, economic and social plan connected with the call for bids to site 3,000 MW of wind power off France's coasts starting in 2015.
They were greeted during the day by Le Havre Mayor and metropolitan area Chairman Edouard Philippe, by Alain Le Vern, Chairman of the Haute-Normandy Regional Council, and by local and regional elected representatives.
On this occasion, AREVA, as industrial partner of the consortium formed by GDF SUEZ, VINCI and CDC Infrastructure for the three zones in Normandy – Dieppe-Le Tréport, Fécamp and Courseulles-sur-Mer – gave details of its industrial plan and, together with Gilles Fournier, Chairman of the Supervisory Board of the Port of Le Havre Authority, presented the 50-hectare site selected in the port area to host new offshore wind turbine manufacturing plants.
Were the consortium to be the successful bidder on the three Norman areas, it would mobilize up to 6,000 jobs with its industrial partner. More than 400 skilled jobs would also be created over the 20 years of operation in the ports of Fécamp, Dieppe, Le Tréport and Ouistreham. The consortium is also committed to creating a sustainable manufacturing industry that creates jobs in Normandy. It has already met more than 80 local companies of the 300 identified, particularly in the coastal areas concerned in Normandy and Picardy.
Gérard Mestrallet, Chairman and CEO of GDF SUEZ commented that "As the wind energy leader in France, we wish to develop this far-reaching wind project in the sea of Normandy with our partners and contribute to the emergence of a French manufacturing industry.GDF SUEZ is committed to the industrial development of this region, where it is already a very strong player and partner to more than 1,500 small businesses and industries."
 Xavier Huillard, CEO of VINCI said "To be ready for the new energy and industrial adventure that is beginning in France, VINCI is contributing the performance of its model to this complex project.We bring our skills to the consortium for the project financing, the design, the construction of the foundations and the installation and maintenance at sea of components of the wind farm with a sustainable commitment towards the local territories.This is a major asset that makes our offer particularly solid from an economic and social point of view and technically well-rounded."
 Jean Bensaïd, CEO of the Caisse des Dépôts Infrastructure stated that "This project is a remarkable opportunity both to contribute to France's industrial development and to anchor its achievement in regional economic activity, working towards sustainable territorial development.We are completely involved alongside our partners."
 Luc Oursel, CEO of AREVA noted that "Eight years after installing our first land-based prototype, our offshore wind turbine is now mass-produced for the needs of several major European projects.Armed with this success and allied with first-rate partners, AREVA is ready to deploy its ambitious industrial plan, which makes Normandy the beachhead for the development of a French offshore wind industry."
[mappress]
Offshore WIND staff, March 26, 2012; Image: developpement-durable