Platts Awards 21 Companies and Industry Leaders at NY (USA)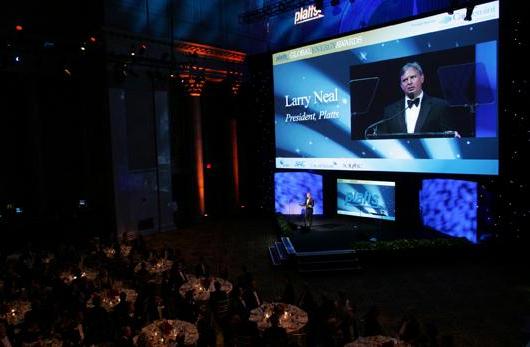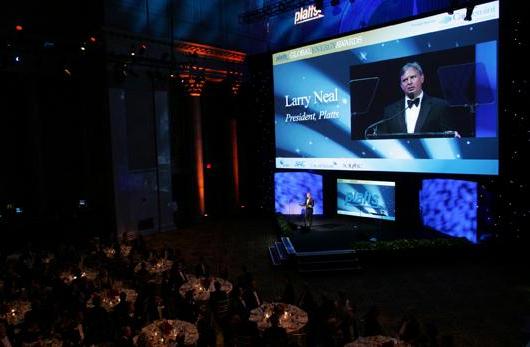 "Green" was the predominant color as the 2011 Platts Global Energy Awards were presented to 21 companies and industry leaders at a gala dinner in New York.
Clean energy and sustainability themes prevailed in the entries for this year's awards, not only setting the criteria for honors in energy efficiency and technology categories, but also gaining points for companies vying for leadership and operational efficiency awards.
Now in their 13th year and widely regarded as the "Oscars" of the energy industry, Platts Global Energy Awards are hosted by Platts, a leading provider of energy, petrochemicals and metals information and division of The McGraw-Hill Companies​, Inc.
This year's "green" winners included Canada's Ontario Power Authority​ (OPA) and U.S.-headquartered office supply giant Staples. Both companies were lauded for "Energy Efficiency Program of the Year," with OPA winning in the "supplier" category and Staples coming in first in the "end-user" category. Honored for technologies that promote sustainable energy were Germany's E.ON Climate & Renewables, which won Platts' "Green Energy Generator of the Year" award, and LanzaTech, a six-year-old company founded in New Zealand, which snagged the "Sustainable Technology Innovation of the Year" award.
 Energy Efficiency Program of the Year – Energy Supplier
The Platts Global Energy Awards' independent panel of judges praised OPA's "saveONenergy" public-education initiative that began in 2004 for creating a culture of conservation in Canada's most populous province. The program has been a key part of the utility's wide-ranging and innovative efforts to reduce peak demand and thus avoid building additional power plants. By adopting aggressive conservation targets and investing in new conservation methods, OPA has saved consumers money in the short-term, while steering Ontario toward a coal-free future for the long-term.
 Energy Efficiency Program of the Year – Commercial End-User
Through the "Staples Sustainability Program," the world's largest office supply company has put waste reduction and energy efficiency at the heart of its operations. Staples has adopted advanced technologies including "smart grid" technologies, heating and air-conditioning optimization techniques, automated demand-response technologies, and "green IT" initiatives. In addition, Staples has mobilized a multi-year educational campaign to persuade all its stakeholders that energy-conscious behavior is good for the environment, society, and the company's bottom line. The judges noted that Staples has consistently set challenging targets and achieved outstanding results.
 Green Energy Generator of the Year
E.ON Climate & Renewables, a division of E.ON, one of the world's leading power and gas companies, was singled out by the judges for its impressive record of offshore wind power development. More than 96% of the world's operational offshore wind installations are located in European waters, and E.ON has delivered a remarkable 46% of that capacity. E.ON has committed more than $1.4 billion to this fast-growing segment of the energy market and its far-sighted investments in hardware and operational techniques may soon make offshore wind power a critical part of the world's energy supply.
 Sustainable Technology Innovation of the Year
The Platts Global Energy Awards judges were impressed by LanzaTech's breakthrough technology for converting waste gas, which would otherwise exacerbate the problem of greenhouse-gas emissions, into fuel-grade ethanol. By developing a genetic modification system to create a gas-fermentation microbe, LanzaTech has made a dramatic advance along the biotechnology frontier. As shown in a pilot project now under way at a steel mill in China, the company's process can convert even highly contaminated industrial emissions into usable fuel. LanzaTech's innovation suggests that advanced technology can indeed contribute to energy security, avoid aggravating climate change, promote green growth and create jobs.
"Green" projects and successes also contributed to wins in a variety of Global Energy Award categories. Dow Chemical​'s commitment to renewable and alternative energy solutions was one of the many reasons why CEO Andrew Liveris was selected as "CEO of the Year." Likewise, Richard Kelly, retired chairman and CEO of Xcel Energy, was one of three "Lifetime Achievement" award winners because of his efforts to advance Xcel's use of wind and solar power, and Arno Harris, CEO of Recurrent Energy, was named "Rising Star of the Year – Individual" for shaping the future of clean energy through leadership roles in the company and the solar energy industry. In addition, the "Rising Star Award – Company" honors went to SeaMicro, an innovator in computer hardware which developed a technology for reducing the power consumed by computer servers by up to 75%.
Nearly 500 energy executives from around the world walked the red carpet to attend the annual black-tie event, often described as the "Oscars" of energy. Some 21 winners were announced in 19 performance categories which recognize exemplary corporate and individual achievement, innovation and leadership, and low-carbon energy sustainability initiatives. For a second year, the event was emceed by CNBC Television's Amanda Drury.
The Awards ceremony was preceded by the fifth annual Platts Global Energy Outlook Forum, "The World's Quest for Clean Energy," during which industry leaders, economists and government officials engaged in roundtable discussions on the impediments to scalable green energy, the challenges to a green economy, and the energy supply and demand outlook for 2012 and beyond. Petrobras CEO Jose Sergio Gabrielli de Azevedo presented the keynote address.
The 2011 Platts Global Energy Awards sponsors included Capgemini, as principal for a ninth consecutive year, along with returning Elster and SAIC.
Next year's Platts Global Energy Awards and events will be held November 29, 2012, in New York City.
[mappress]
Source: prnewswire, December 05, 2011; Image: platts