Tideland LED Warning Lights for Portuguese Test of Floating Wind Turbine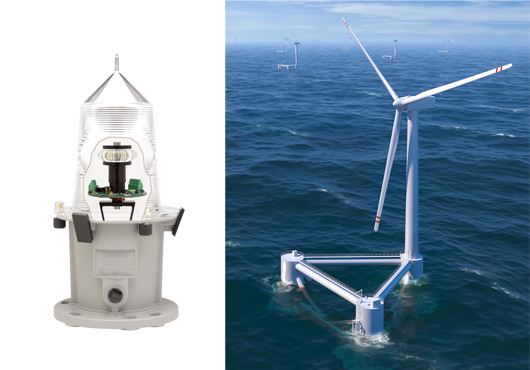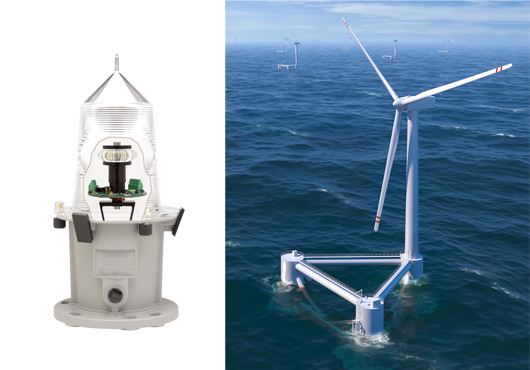 Tideland Signal has supplied Principle Power with a comprehensive package of LED warning lights to warn shipping when the revolutionary "WindFloat" floating wind turbine is stationed off the coast of Portugal.
Windfloat is the focal point of a US$23 million programme for testing the potential of the design in a location with plenty of wind but inhibited by difficult offshore accessibility. Designed by Marine Innovation and Technology, WindFloat consists of a triangular platform which can operate in depths which were previously unattainable (more than 50m), employing wave dampening and turbine-induced motion. The platform is largely assembled onshore, eliminating the expense of jack-up barges, and is compatible with current wind turbine technology, but profits by the better wind conditions further offshore.
On station, WindFloat will be marked by three Tideland MLED-155 lanterns with on-board GPS synchronisation and a MaxiHALO-EFF producing a white flashing light of at least 15 candela and Morse code U. In addition, Tideland is supplying three ship navigation lights to mark port, starboard and stern of the structure during tow-out. A single photocell switches power to these lights during night time.
Tideland's MLED-155 is designed for use with an external power source, in this case 9-36VDC, and offers minimal maintenance requirements and a service life of 25 years on station in the most demanding environments. Long-life LEDs and high-integrity electronics housed in a tough UV-resistant polycarbonate enclosure ensure that lantern will not need to be opened during its service life.
WindFloat is a semi-submersible design with the turbine pylon carried assymetrically on a triangular structure of three linked columns moored to the seabed via anchors. Along with ballasting, water-entrapment or "heave" plates at the base of the columns reduce pitch and yaw in waves, while a closed-loop trim system mitigates wind-induced thrust forces. The hull has a draught of 20m and, with ballast, displaces up to 5,500 tonnes. A Vestas V80-2.0MW offshore wind turbine on top of a 80m tower and fitted with a 120m rotor will deliver 2MW of energy.
Particpants in the Portuguese project include Principle Power, Inc., Energias de Portugal, or EDP, and InovCapital – Sociedade de Capital de Risco, SA., Vestas Wind Systems A/S, A. Silva Matos (ASM), and Fundo de Apoio a Inovacao (FAI).
Tideland previously supplied three MLED-155 light stations, with a range of 5 NM to mark Statoil's Hywind floating wind turbine which is mounted on a spar buoy, as well as lights and sound signals for many of the more traditional offshore wind farms.
Approved to ISO 9001:2008, Tideland Signal Limited is a British-based member of the Tideland group of companies, which specializes in the design and manufacture of aids to marine navigation. The Tideland group is independently owned and has its headquarters in Houston, Texas.
[mappress]
Source: tidelandsignal, November 03, 2011