Ingenium Develops Unique Catamaran Vessel for Offshore Windmill Foundations Installation (Norway)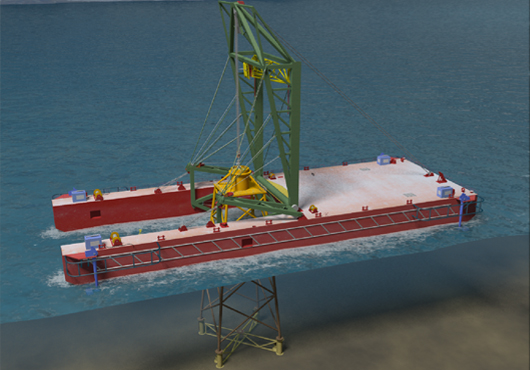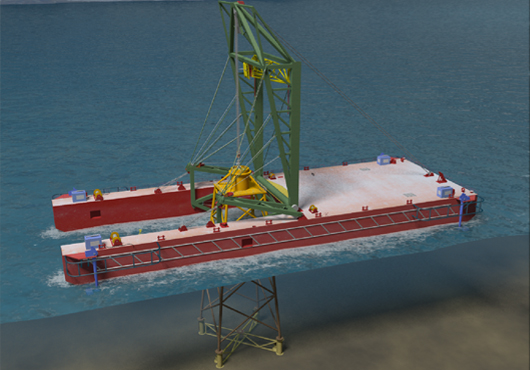 The market for offshore windmills is facing a significant increase. Currently it is installed or under construction around 1 500 offshore windmills, mainly in North Europe. More than 10 000 are being planned.
The developers are looking for cost efficient installation methods and equipment. Ingenium AS Oslo, Norway has taken the challenge and developed a cost efficient catamaran vessel for installation of offshore windmill foundations. The engineering work is well developed and the class design is completed. In October model tests will be conducted to confirm the excellent sea state behavior of the catamaran. By year end 2011 contract for building the vessel is planned placed with a shipyard.
The catamaran has a length of 120m and a width of 45m. A tilting frame is mounted topside for installation of various types windmill foundations such as jackets, mono-piles and suction anchors in water depth ranging between 15m and 60m. The foundations are transported horizontally and is turned 90 degrees before lowered to the seabed. The catamaran is equipped with a dynamic positioning system and has capacity to install foundations with weight up to 1000 tons, length 83m and width 31m x 31m. The catamaran is classed by Germanischer Lloyd. Main operational main features are:
• The catamaran offer significant cost savings for installation of offshore wind mill foundations compared with the jack up- and heavy lift vessels used to day.
• The catamaran is independent of soil conditions, which is not the case for jack up vessels.
• The catamaran has very good sea state behavior.
• The catamaran is based on known technology assembled in a unique way.
Project manager in Ingenium AS, Paal Stromstad, has great expectation for the catamaran.
"The catamaran has been presented to a large number of installation contractors and developers in the offshore wind farm industry and we have received very good feedback. The Norwegian Research Council is also supporting the development of the catamaran. From a technical point of view we feel we are on safe ground".
"The catamaran can also install complete windmills including foundations. However, current turbine design does not allow this. They are not designed for transport laying and to be turned 90 degrees when installed, which is basis for our installation concept. When this is possible, we are talking about very large cost savings", continues Stromstad.
"The market is huge; more than 10 000 offshore windmills are under planning. The jacket foundations can be compared with the foundations used for offshore oil and gas platforms. In comparison, only 500-600 of these have been installed in the North Sea the last 40 years", says Stromstad.
"The building cost of the catamaran is estimated to around 65 million dollar, approximately one third of the cost for the last generation of jack up vessels. We are in the market to find investors to build the first catamaran and have good hope finding a solution soon," says Paal Stromstad.
[mappress]
Source: ingenium, October 11, 2011