NKT and Prysmian to Connect New Dutch Offshore Wind Farms to Land
TenneT has selected NKT and Prysmian to install five 525 kV XLPE HVDC cable connections for grid projects which will link new Dutch offshore wind farms to the national grid. TenneT's next-generation, 2 GW grid connections in the Netherlands are scheduled to be completed between 2028 and 2030.
NKT will build the cable connections for the IJmuiden Ver Beta, IJmuiden Ver Gamma and Nederwiek 2 offshore areas which connect to the onshore grid at Maasvlakte in Port of Rotterdam. Prysmian is responsible for the connections of the IJmuiden Ver Alpha and Nederwiek 1 sites, whose onshore landing point is at Sloegebied in Zeeland. 
In a press release issued on 3 March, NKT said the projects it was awarded have a combined order value of approximately EUR 2 billion, making it the largest combination of orders the Denmark-headquartered company ever received. According to information released by Prysmian, the Italian company's contracts are worth approximately EUR 1.8 billion in aggregate.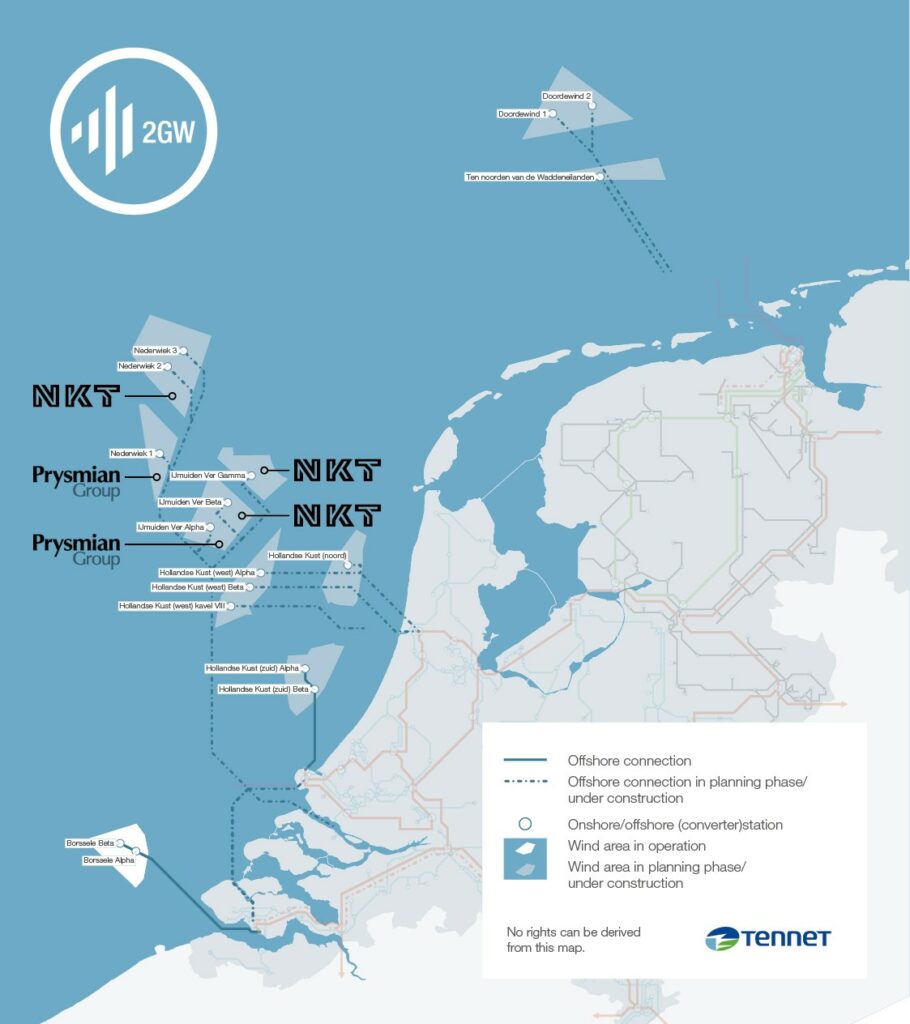 Both contracts include design, engineering, production, delivery, project management, offshore-, nearshore- and inshore installation of 525 kV HVDC cables and all jointing works in subsea and land sections.
NKT and Prysmian expect to start activities under their contracts this year, with onshore cable laying work set to start in 2025. Offshore works are expected to start in 2026 and all five grid connection projects are planned to be in operation between 2028 and 2030.
The contracts are part of TenneT's realisation of plans to build the connections for future offshore wind farms according to its new 2 GW standard. With this new standard, the power generated offshore will be brought ashore via a High-Voltage Direct Current (HVDC) connection, with land substations as the link between wind farms and the high-voltage grid. The transmission system operator (TSO) awarded land station contracts this February.
For the cable connections, TenneT invited tenders in September 2022.
The 2 GW HVDC solution, based on 525 kV, requires only one cable system, limiting the impact on the environment and the surroundings. One cable system will consist of four cables, a 'plus' and 'minus' pole cable, a metallic return cable and a fibre optic cable.
TenneT, together with market parties, started developing a research and development (R&D) initiative for a 2 GW, 525 kV XLPE HVDC grid connection system in 2020. This resulted in providing input on the required functionality and performance of the innovative HVDC system and led to the certification of cable suppliers in 2022, the TSO says.
According to TenneT, for the cable tender, market parties were challenged with high sustainability and safety standards.
"Suppliers are encouraged to minimize environmental impact with strong CO2 and NOx emission reductions. To reduce the carbon footprint, suppliers will use recycled copper. Challenging suppliers in safety by design and safety culture, helps in TenneT's ambition to eliminate safety incidents. To meet these standards, cable suppliers will invest in new production capacity, vessels and trenching tools when needed", the Dutch-German TSO said.
Developers of the offshore wind farms that will be built in the five zones will be selected over the coming years, starting with two IJmuiden Ver zones (each comprising two sites) this year.
The Netherlands aims to have 21 GW of operating offshore wind capacity by 2030, corresponding to around 75 per cent of the country's current electricity consumption. Of this, 10.7 GW will come from the newly identified zones the government pinpointed last year.
While working on bringing the installed capacity to 21 GW over the following several years, the Dutch government will also get busy with realising its recently set offshore wind target for 2050, by when the Netherlands is planned to have 70 GW of offshore wind installed in its North Sea waters.
Follow offshoreWIND.biz on: