Shannon Estuary Could Support Build-Out of 30 GW of Floating Wind, House 2 GW of Electrolysis Capacity
The Shannon Estuary in Ireland can support the build-out of up to 1.8 GW of floating wind per year and up to 30 GW by 2050. In addition, it could accommodate a 2 GW electrolyser for hydrogen and downstream e-fuels production, according to the US-headquartered company Bechtel, which reviewed the Shannon Foynes Port Company's Vision 2041 masterplan.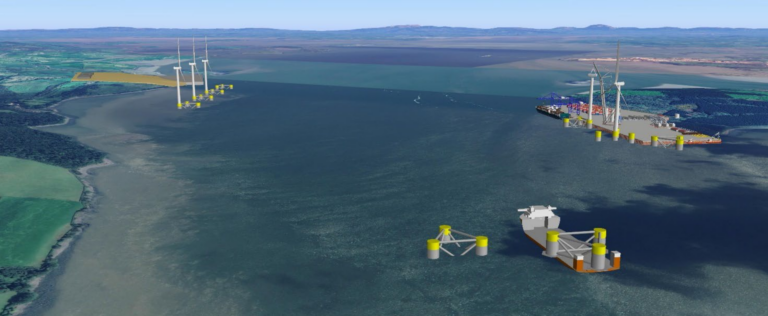 Shannon Foynes Port Company selected Bechtel earlier this year to update its masterplan to accommodate offshore and onshore investment within and adjacent to its harbour in Ireland. The Port aims to become an international floating offshore wind energy hub.
In its review, Bechtel notes that, while the Shannon Estuary is considered the best port to develop the supply chain for floating offshore wind, a new deep-water terminal at Foynes Island and a strategy for the development of the offshore grid are critical and should be in place by 2028 in order to enable the sector to mobilise and meet net-zero obligations by 2050.
The planned Foynes Deepwater Port, located at Foynes Island, is proposed to house the final assembly and pre-commissioning of wind turbines prior to their departure to their designated offshore sites. Phased expansions of Foynes Deepwater Port could help achieve increased offshore wind targets with a throughput of up to 1,800 MW per year.
Development of the Shannon Foynes Port would play a vital role in helping Ireland meet its net zero obligations by 2050. It would also contribute significantly to Europe's efforts, through its REPowerEU plan, to unwind dependence on Russian fossil fuel imports and accelerate the expansion of renewables.
At peak, up to 120 floating turbines could be installed offshore per year. The economic impacts would also be far reaching with thousands of jobs created and billions of euros invested in supply chain and route-to-market infrastructure and facilities around the region, the review states.
Along with supporting Irish and European renewable energy and net-zero targets, implementing the Port's masterplan would also have wider positive impact.
According to the strategic review, the upgrade would not only facilitate the deployment of floating offshore wind at scale in Europe, but would also help decongest the Irish supply chain through the provision of road and rail linked container services.
"This report comes at a critical moment, and we are delighted to have Bechtel supporting us. This is a roadmap for what is required to deliver the unique floating offshore wind opportunity that exists for this region, Ireland and, indeed, Europe because of the unique confluence of assets here on the Estuary and west coast", said Pat Keating, CEO of Shannon Foynes Port.
"The mix of our world-class wind resources and the natural infrastructure, not least our deep sheltered waters, for a global manufacturing and industry base adds up to what is an unprecedented opportunity that we must capitalise on urgently to address climate change".
"To fully unlock these significant opportunities there are national policies in several sectors that require updating. Examples include more clarity and urgency around energy policy, enduring regime, alternative fuels and wider economic and social policies", Keating said.
Follow offshoreWIND.biz on: