X1 Wind Installs Downwind Floating Prototype
X1 Wind has installed its PivotBuoy floating offshore wind turbine prototype at the PLOCAN test site in the Canary Islands, Spain.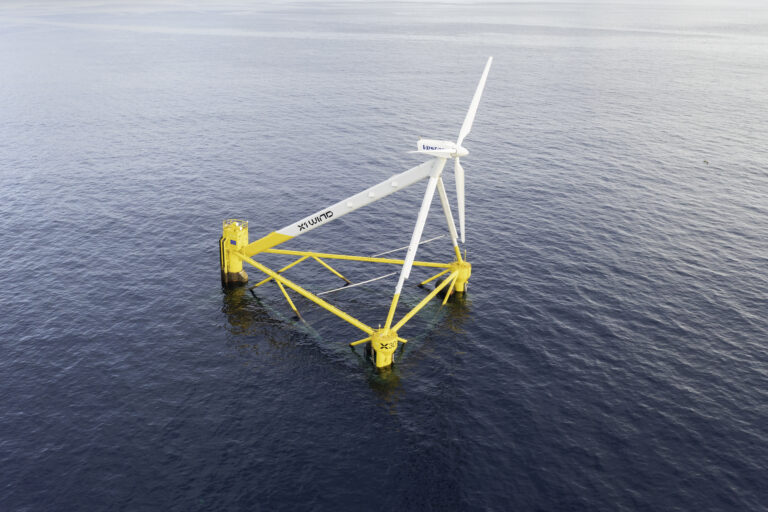 Fitted with a Vestas V29 turbine, the 1:3 prototype has been installed at a 50-metre water depth in a downwind configuration, creating a passive 'weathervaning' effect that could eliminate the need for an active yaw system.
After completing the installation, the PivotBuoy project will be tested in fully operational conditions until March 2023, feeding the electricity produced to PLOCAN's smart grid, after it has been commissioned.
The developer laid the dynamic cable for its floating offshore wind turbine prototype in August, while the X30 platform was fully assembled in Las Palmas, Gran Canaria, in October 2021.
The scalability of X1 Wind's technology will enable the company to provide platforms for the 15 MW scale wind turbines and beyond and deploy them at very deep sites, according to the company.
"Data obtained from the X30 will contribute to de-risk the technology, improve the design, and obtain the certification of our commercial-scale platforms in preparation for upcoming tenders in Spain and other countries worldwide", said Alex Raventos, X1 Wind CEO and Co-Founder.
The X30 platform was developed with several key design features to streamline the installation process, X1 Wind said, including a lightweight and stable floater which can be easily wet towed by local vessels.
X1 Wind's platform is said to utilize the best features of a semi-submersible – with a low draft – and the ability to reach deeper waters by a Tension Leg Platform (TLP) mooring system – with a small seabed footprint.
Backed by a EUR 4 million grant from the European Commission H2020 Program, X1 Wind's X30 deployment is being supported by a pan-European consortium including EDP NEW, DNV, INTECSEA, ESM, and DEGIMA and research centres WavEC, DTU, and PLOCAN.
X1 Wind was recently selected by the European Commission to deliver the NextFloat project – a programme accelerating industrial-scale floating wind as part of which the company will test a 6 MW floating wind platform offshore France.
"The world is facing unprecedented challenges. Decarbonization through Renewable Generation will be key. The oceans and the sustainable exploration of offshore renewables are paramount for a greener, decarbonized world", said João Maciel, Executive Board Member of EDP NEW.
Follow offshoreWIND.biz on: