Aquaterra, Seawind Working on 1 GW Offshore Floating Wind-to-Hydrogen Project
Aquaterra Energy and Seawind Ocean Technology have signed an agreement for the development of what the companies say will be the world's largest floating offshore wind and green hydrogen production project in Italy.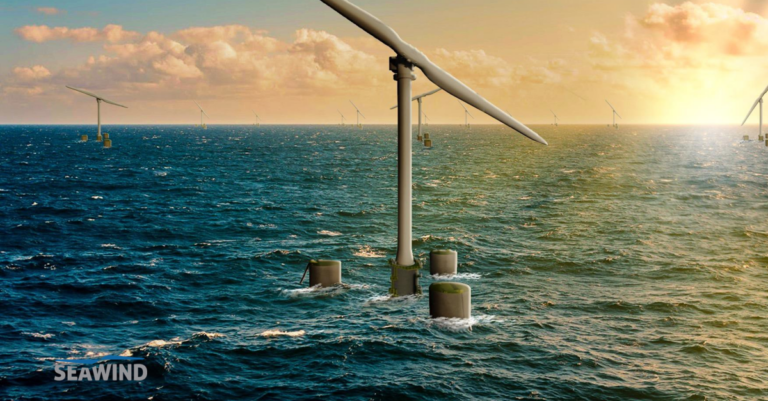 The project, named HyMed, is currently in its first phase of permitting, with the grid connection and the environmental impact assessments well underway.
The partners expect to produce 3.2 GW of electricity from the project, of which more than 1 GW will be green hydrogen once production units are fully operational.
The wind and hydrogen offshore assets are planned to be developed and constructed by both Aquaterra Energy and Seawind in Italy, opening up thousands of qualified jobs, said the partners.
Aquaterra Energy will provide its offshore engineering and green hydrogen production expertise while Seawind will bring its multiyear expertise on floating offshore wind technology to drive the development forward.
The partners' plan is to transport the green hydrogen onshore by pipeline or by vessels to global markets once the project is completed by 2027.
"We are pleased to partner with Aquaterra Energy in these highly impactful projects in Italy and Greece. We consider the Mediterranean to be the best area where significant offshore wind projects can be developed and cross-border synergies can be made, serving Europe and MENA", said Dimitrios Moudouris, CEO at Seawind Ocean Technology.
HyMend will enable Aquaterra Energy to build on expertise established through its previous work on a fully-scalable offshore green hydrogen production model, called project Haldane, said the company, and apply it to Seawind's approach to floating offshore wind, which could accelerate the production process.
"With governments and business recognising the value of hydrogen as a vital resource for net zero initiatives, energy security, and guarding against volatile natural gas prices, we are hugely excited by the opportunities for production presented by this new partnership", said Anne Haase, Renewables Director at Aquaterra Energy.
"Seawind's fully integrated and scalable floating wind model offers a clear path to cost-effective industrial scale production – and we are delighted to be able to provide the final piece of the production puzzle for it."
According to the partners, the collaboration will act as a template for future offshore renewable energy projects between the companies including a 300 MW exclusively hydrogen production project in southwest Greece named Icarus.
Follow offshoreWIND.biz on: