Japanese Vessel Owners Team Up on Offshore Wind Vessel Management
"K" Line Wind Service and Penta-Ocean Construction (POC) have entered into an agreement on future collaboration on vessel management in the offshore wind sector.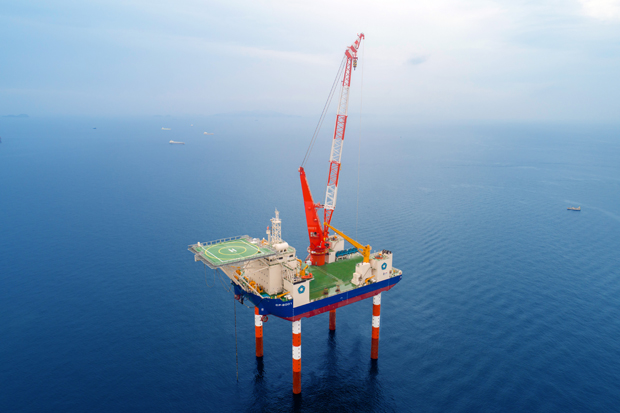 Under the Memorandum of Understanding (MoU), the companies plan to draw on their expertise in each respective area and management resources to collaborate on the management (operation, maintenance and crewing) of vessels used in offshore wind construction and maintenance works.
POC will outsource some operations to "K" Line Wind Service while the latter will provide its offshore support vessels to be utilised by POC.
"K" Line will take on the reflagging of the foreign-flagged offshore installation vessels to be owned by Japan Offshore Marine (JOM), a joint venture company established by POC and Belgian DEME Offshore, as well as subsequent management of vessel operation, maintenance works, and crewing.
Penta-Ocean Construction and DEME Offshore entered into the joint venture last year and revealed plans to obtain the offshore installation vessel Sea Challenger, currently owned by DEME Offshore, after upgrading it with a larger crane. The vessel will be equipped with a 1,600-tonne crane and be ready for service in 2025.
As a result, Penta-Ocean will own three offshore installation vessels, including CP-8001, a vessel equipped with an 800-tonne crane completed in 2019, and CP-16001, a vessel equipped with a 1,600-tonne crane that is currently under construction jointly with Kajima Corporation and Yorigami Maritime Construction and scheduled to start operations next year.
In the years to come, POC plans to expand its fleet with new cable laying and other vessels with an aim to reinforce its competitive edge in the field of offshore wind construction works, according to the company.
POC and "K" Line Wind Service also said they would investigate the construction and co-ownership of a Service Operation Vessel (SOV) and other vessels required for offshore wind operation and maintenance (O&M) works.
"K" Line Wind Service was established last year by Japanese shipping company Kawasaki Kisen Kaisha ("K" Line) and its domestic subsidiary Kawasaki Kinkai Kisen Kaisha to provide offshore support vessels and marine-related services to the industry.
Kawasaki Kinkai Kisen Kaisha and POC have been building a cooperative relationship through the construction and operation of the offshore support vessel "KAIKO" (6,000hp, operating since 2021) for POC's CP-8001, "K" Line said in a press release on 25 August.
Follow offshoreWIND.biz on: