French Companies Join Forces on Offshore Green Hydrogen
Green hydrogen technology developer Lhyfe and the offshore engineering and shipbuilding company Chantiers de l'Atlantique have signed a Memorandum of Understanding on the development of offshore hydrogen production platforms.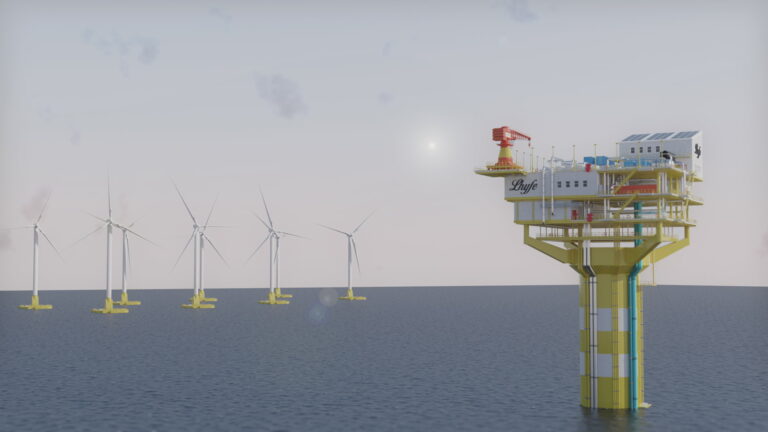 The two companies will collaborate on offshore renewable hydrogen production projects with on-grid or off-grid wind farms and plan to develop green hydrogen production solutions with a minimum capacity of 100 MW. These will be installed on existing fixed structures, or mounted on seabed foundations or floating platforms.
Along with offshore development, the French companies also aim to develop a renewable hydrogen fuel chain in port areas.
Under the agreement, Chantiers de l'Atlantique is responsible for the design, construction and installation of the platforms, while Lhyfe will be in charge of the design and operation of the renewable hydrogen production facilities.
The companies have already been working together on what will become the world's first offshore renewable hydrogen production demonstrator, once put into operation in September 2022 at the SEM-REV test site off the coast of Saint-Nazaire in France, where it will be linked with the Floatgen floating wind turbine.
According to a joint press release from 15 June, Chantiers de l'Atlantique and Lhyfe now want to reinforce their partnership on this project to deploy the system on a large scale.
"The signing of this agreement is the concrete materialization of a successful collaboration between two companies with a desire to play a full role in energy transition. We are now in a position in France to offer green hydrogen production solutions for the international market", said Frédéric Grizaud, Director of the Marine Energy & Engineering Business Unit (AOE), Chantiers de l'Atlantique.
Thomas Créach, Lhyfe's Technical Director, said that the production of renewable green hydrogen on a very large scale was now within reach and that the two partners were now in a position to respond to the various calls for tenders related to offshore development.
Follow offshoreWIND.biz on: