Ørsted Picks Smulders for Gode Wind 3 & Borkum Rifgrund 3 Secondary Steel
Ørsted has selected Belgium-based Smulders to manufacture the secondary steel components for the TP-less foundations of the Gode Wind 3 and Borkum Riffgrund 3 offshore wind farms in Germany.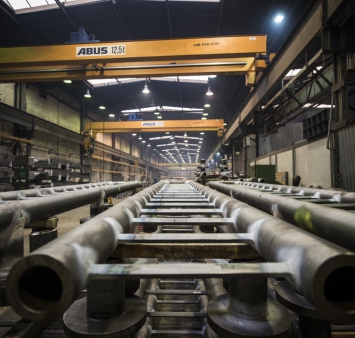 Smulders will manufacture and supply the secondary steel elements for the 23 TP-less foundations and one offshore substation for Gode Wind 3 and the 83 units for Borkum Riffgrund 3.
The secondary steel, whose production is starting this month and will be completed by the first quarter of 2023, will be manufactured in Poland.
The external ladders will be constructed and painted at Smulders' factory in Niemodlin. The components for the suspended cages (SIP units) units will also be produced in Niemodlin, then galvanised and transported to Stettin in Poland, where they will be assembled into a cage and the electrical system will be installed on the units.
The anode cages will be manufactured in Belgium or in Poland.
The 106 wind turbine TP-less monopiles and one offshore substation foundation will be transported and delivered by Jan De Nul which will use its new installation vessel Les Alizés for the work.
The XXL monopiles will be delivered by Bladt Industries and Steelwind Nordenham, under supply contracts signed with Ørsted in September last year.
Ørsted won the rights to develop Borkum Riffgrund 3 at the German auction held in 2018 by bidding EUR 0, making it the world's first large-scale offshore wind farm to be awarded with a zero bid.
Located close to Ørsted's existing offshore wind farms Borkum Riffgrund 1&2 and Gode Wind 1&2, both new projects will feature Siemens Gamesa 11 MW offshore wind turbines.
The 900 MW offshore wind farm will be built simultaneously with the 242 MW Gode Wind 3, which is expected to be commissioned in 2024 with Borkum Riffgrund 3 coming online the following year.
Follow offshoreWIND.biz on: