Jan De Nul's Next-Gen Vessel to Debut at Ørsted's German Offshore Wind Farms
Ørsted has contracted Jan De Nul for the transport and installation of 107 XXL monopiles and one offshore substation topside at Gode Wind 3 and Borkum Riffgrund 3 offshore wind farms in Germany.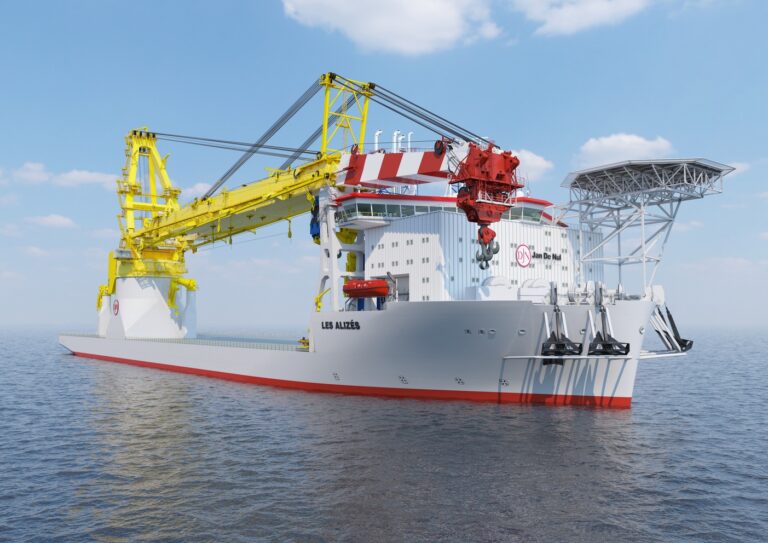 Under the final contract signed with Ørsted, Jan De Nul will deploy its new installation vessel Les Alizés for the work. Starting in 2023, Les Alizés will install 106 wind turbine TP-less monopiles, one offshore substation foundation, and the substation's topside. Before installation, scour protection will be installed at all 107 monopiles locations.
The XXL monopiles will be delivered by Bladt Industries and Steelwind Nordenham, under supply contracts signed with Ørsted last month.
The 242 MW Gode Wind 3 and 900 MW Borkum Riffgrund 3 offshore wind farms will feature 11 MW Siemens Gamesa turbines, which will be installed by Cadeler and Seaway 7, selected as preferred suppliers for the work earlier this month.
In April, Germany's Federal Maritime and Hydrographic Agency (BSH) granted planning approval to Ørsted for the 242 MW Gode Wind 3 offshore wind farm, whose construction will be carried out in parallel with the 900 MW Borkum Riffgrund 3 project, which has yet to be approved.
Gode Wind 3 will go into full commercial operation in 2024 and the commissioning of Borkum Riffgrund 3 would follow in 2025, with final investment decision for both projects still pending.
Jan De Nul's new vessel is being built at China Merchant Heavy Industry's (CMHI) Haimen shipyard in China, where the construction started in December 2020.
Les Alizés, a heavy-lift, floating installation vessel, will be equipped with a fully automated monopile installation system and an electrical motion-compensated pile gripper.
Specifically designed for loading, transporting, lifting, and installing large offshore wind turbine foundations, the vessel will be capable of building the newest generation of wind farms once delivered in 2022, and is also suitable for decommissioning offshore oil and gas platforms, according to Jan De Nul.