RWE Enters India's Offshore Wind Market
RWE Renewables and India's integrated power company Tata Power have entered into a partnership to explore the potential for a joint development of offshore wind projects in India.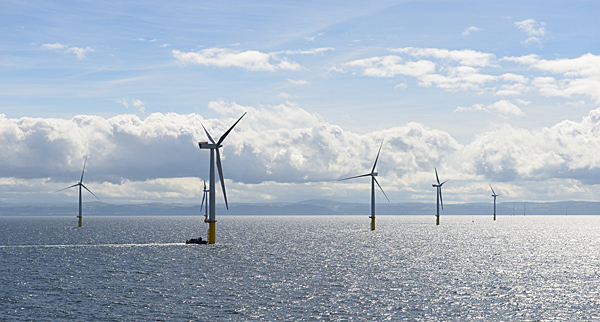 The partnership was forged after Tata Power Renewable Energy Limited, a wholly owned subsidiary of Tata Power, and RWE Renewables GmbH signed a Memorandum of Understanding (MoU), which the two companies deem significant in the light of the Government of India's announcement of targeting 30 GW of installed offshore wind capacity by 2030.
The Indian Government is in the process of conducting detailed technical studies and devising the regulatory framework to establish the first auctions for wind farms off the coasts of Tamil Nadu and Gujarat, RWE and Tata Power said, adding that offshore wind has the potential to spur significant infrastructure investment in these states and to support local job creation.
According to RWE's press release from 21 February, the new partners will perform technical and commercial site assessments to facilitate the establishment of an offshore wind market in India and are looking into an evaluation of the domestic offshore wind supply chain and supporting infrastructure, such as ports and grid connections, to identify the local strengths as well as necessary development potential.
"India has excellent wind resources, which can help to meet the country's increasing energy demands. If clear regulations and an effective tender scheme are in place, we expect India's offshore wind industry will gain a real momentum. RWE wants to be part of this development", said Sven Utermöhlen, CEO Wind Offshore of RWE Renewables.
According to the World Bank, India has 112 GW of bottom-fixed and 83 GW of floating offshore wind potential, with best opportunities located in Tamil Nadu and Gujarat.
The country has made the news with its offshore wind plans more than a few times over the past several years. However, India has been slow in reaching the development stage, even though it had set an offshore wind target of 5 GW by 2022 and 30 GW by 2030.
At the beginning of 2019, India's Ministry of New and Renewable Energy (MNRE) issued draft offshore wind energy lease rules for the development of projects within the country's Exclusive Economic Zone (EEZ). Later that year, the country's National Institute of Wind Energy (NIWE) launched a tender seeking the turnkey supply of four offshore LiDARs for two sites.
The following year, things started moving in the private sector with India's NTPC Ltd. and Oil and Natural Gas Corporation Limited (ONGC) signing an MoU to set up a joint venture company to explore building offshore wind and other renewable energy projects both in India and overseas.
Follow offshoreWIND.biz on: