Volvo Penta Propulsion Systems for New Hybrid-Ready US Crew Transfer Vessels
Volvo Penta has signed a contract to provide its quad IPS propulsion systems for the four new offshore wind farm crew transfer vessels (CTVs) that Rhode Island-based Blount Boats will build to ABS Class for American Offshore Services (A-O-S), a newly established company between Sweden's Northern Offshore Services (N-O-S) and the US SEA.O.G Offshore.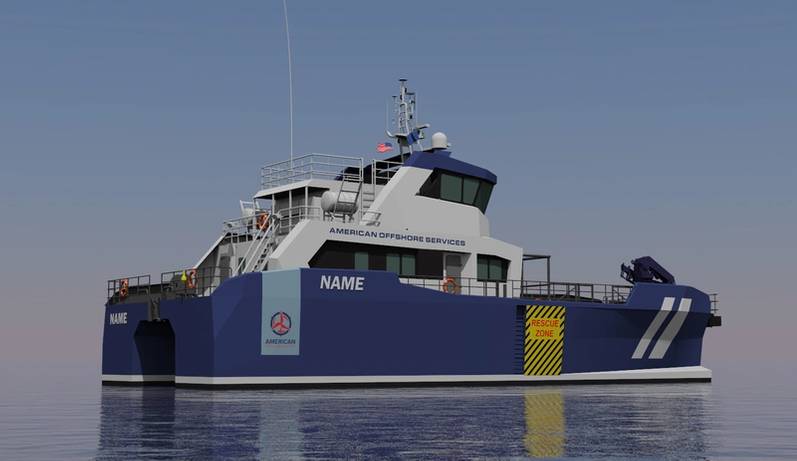 The new 30-metre twin-hull CTVs will be powered by four IPS900 propulsion drives, two in each hull. The fully integrated system will also include Volvo Penta's GPS-based Dynamic Positioning System and integrated joystick controls, allowing for convenient and easy maneuverability even in conditions of strong currents and high waves, Volvo Penta said.
All subsystems will be connected by Volvo Penta's Electronic Vessel Control (EVC) data network.
"The quad IPS configuration is ideally suited to the unique requirements for these highly specialized boats, providing a unique combination of high top speeds to minimize transit times, excellent slow-speed torque and superior grip when loading and unloading crew and gear at the turbines", said Jens Bering, vice president, marine sales, Volvo Penta of the Americas.
"The hull design and IPS drives will also provide a smooth and stable ride for passengers and crew under all sea conditions, an important consideration for workers' productivity when they arrive at their worksite".
"The EPA IMO Tier 3 engines deliver low emissions and industry-leading fuel economy at all speeds, resulting in significant savings in operating costs", Bering said.
The four new, Jones Act-compliant CTVs will be delivered from the Rhode Island shipyard in 2023 and 2024, from when they will support four new offshore wind projects on the US East Coast by transporting workers, equipment and spare parts to the wind turbines.
The contract with Volvo Penta and the announcement that the CTVs will be built to ABS class come shortly after American Offshore Services placed an order at Blount Boats for the four vessels, saying they would be hybrid-ready and that A-O-S would provide its new CTVs to four different wind farms offshore the US East Coast during the construction phase, starting in the second quarter of 2023.
The four CTVs join a series of vessel designed specifically for US offshore wind operations to be built to ABS Class, including Charybdis, the first Jones Act-compliant wind turbine installation vessel (WTIV) which is now under construction, and the first US-flagged Jones Act offshore wind farm service operation vessel (SOV).
"American Bureau of Shipping is assisting the local content supply chain development of offshore wind here in the U.S., with support for the vessels such as these, that will be critical to establishing the industry. In addition, we are proud to add these CTVs to that list in supporting the clean energy transition and look forward to seeing them in operation on the East Coast", said Greg Lennon, ABS Vice President, Global Offshore Wind.