Construction Starts on US Offshore Wind Foundation Components Factory
Joint venture partners Ørsted and Eversource have started constructing a manufacturing facility for offshore wind foundation components at ProvPort in Rhode Island, United States.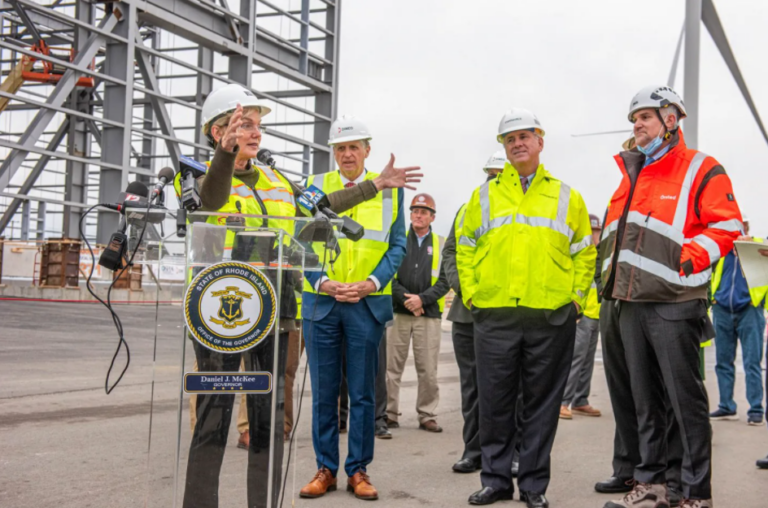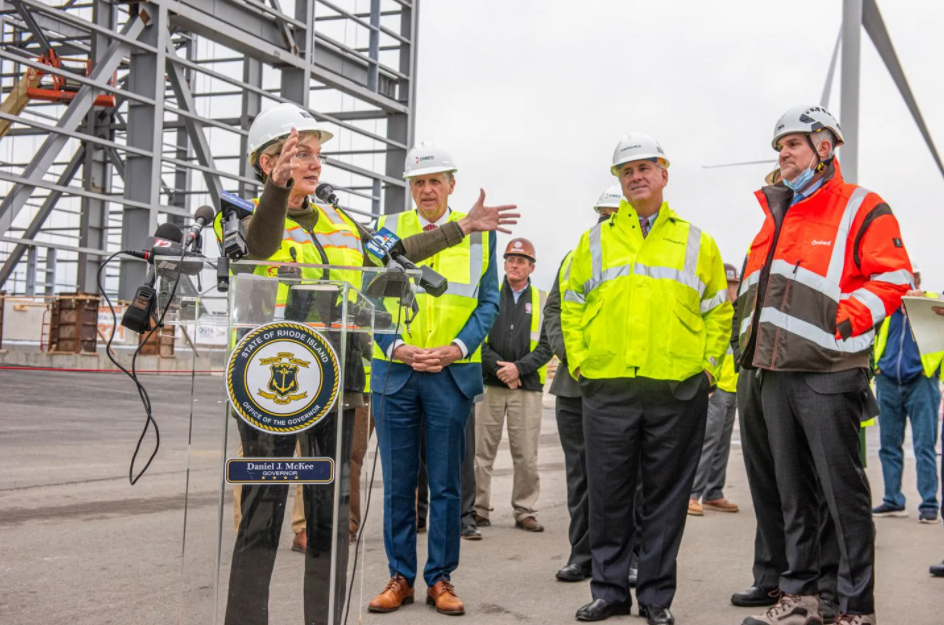 Once complete, the new facility will be used to support the construction of advanced foundation components integral to foundations for Ørsted and Eversource's portfolio of offshore wind farms serving Rhode Island, Connecticut, and New York.
The construction site was toured by US Secretary of Energy Jennifer M. Granholm, Rhode Island Governor Dan McKee, and Labor leaders on Thursday, 2 December.
"I want to thank Secretary Granholm and Governor McKee for touring our site today along with our labor partners who will help deliver America's green transformation," said David Hardy, Chief Executive Officer of Ørsted Offshore North America.
"Rhode Island is home to America's First Offshore Wind Farm, which was commissioned on December 12, 2016. Five years later, it is fitting that we showcased our ProvPort facility today and its growing capabilities that will further establish Rhode Island as a regional offshore wind energy hub. Our investments into the port and community, combined with support from local, state and federal leaders, are making our clean energy vision a reality."
The site upgrades and construction underway at ProvPort are covered by a Project Labor Agreement that Ørsted and Eversource reached with the Rhode Island Building and Construction Trades Council and the project's general contractor Dimeo Construction – ensuring that all the work is being completed by local, union labor. This initial scope of work has created 40 local jobs.
In total, Ørsted and Eversource are investing a combined USD 40 million (EUR 35.44 million) at ProvPort and Quonset Point, in North Kingstown, Rhode Island.
The bipartisan Infrastructure Investment and Jobs Act recently signed into law by US President Joe Biden will help accelerate port upgrades, electrical grid infrastructure, and much more to expedite the delivery of offshore wind energy as a way to combat climate change and reduce air pollution, Ørsted.
"The Biden Administration has been a relentless champion for clean, renewable energy with offshore wind as its bedrock," said Joe Nolan, Chief Executive Officer and President of Eversource Energy.
"We are thrilled today to showcase some of the tremendous work already underway in Rhode Island that, together with other regional investments, is playing a critical role in combating climate change, growing the domestic supply chain, and creating well-paying, local jobs."
The new facility will support the development of the 704 MW Revolution Wind project serving Rhode Island and Connecticut, as well as the recently approved 132 MW South Fork Wind project in New York.
The joint venture partners are also developing the 924 MW Sunrise Wind project in New York.