New Jersey Wind Port Attracts 16 Offers from Major Offshore Wind Players
Six world-leading offshore wind developers and wind turbine manufacturers have submitted a total of 16 offers in the New Jersey Economic Development Authority's (NJEDA) sublease solicitation for the New Jersey Wind Port.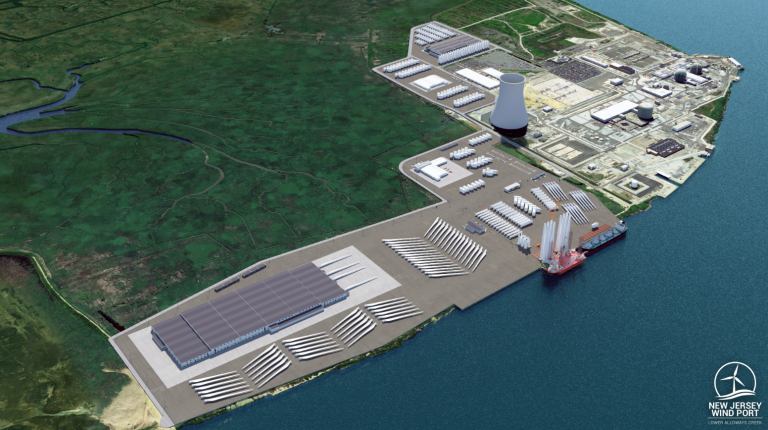 Ørsted, Atlantic Shores Offshore Wind (a joint venture between Shell and EDF Renewables), and Beacon Wind (a joint venture between Equinor and BP) have submitted offers for Parcels A and B1, which are being purpose-built for offshore wind marshalling, staging, and final assembly of turbines.
GE Renewables, Siemens Gamesa Renewable Energy, and Vestas have submitted bids for both Parcels C and G, the two manufacturing parcels available at the New Jersey Wind Port.
The NJEDA published a Notice for Sublease of Property at the New Jersey Wind Port on 29 September, seeking non-binding offers from offshore wind developers and component manufacturers on the four parcels of property at the Port, with the deadline for submissions set for 22 October.
The 16 offers have been preliminarily determined to be compliant with the solicitation's requirements and will be scored in the coming days. The NJEDA expects to begin negotiations with some or all of the parties with compliant bids after scoring is completed.
After completing negotiations, NJEDA Board will review and determine final compliance determinations, scoring, and approval of binding offers and subleases on a parcel-by-parcel basis.
Construction on the Wind Port officially started in September with earthworks beginning on-site, while major construction is due to start in December with the goal of opening the port in winter 2023/2024.
The New Jersey Wind Port is located on an artificial island on the eastern shores of the Delaware River, southwest of the City of Salem. The site was selected in June 2020 after a 22-month assessment process, including engagement with the industry, government, and environmental stakeholders. The NJEDA has been preparing site and finalising design since summer 2020.
The Wind Port is a first-in-the-nation infrastructure investment that will provide a location for essential staging, assembly, and manufacturing activities related to offshore wind projects on the East Coast.
At full build-out, the Port has the potential to create up to 1,500 manufacturing, assembly, and operations jobs and drive billions of dollars in economic growth, the NJEDA said.
The Port is expected to support up to USD 500 million in new economic activity within the State and region each year.