TenneT and the joint venture of ENGIE Solutions and Iemants have cut the first steel for the Hollandse Kust (west Alpha) offshore transformer station topside.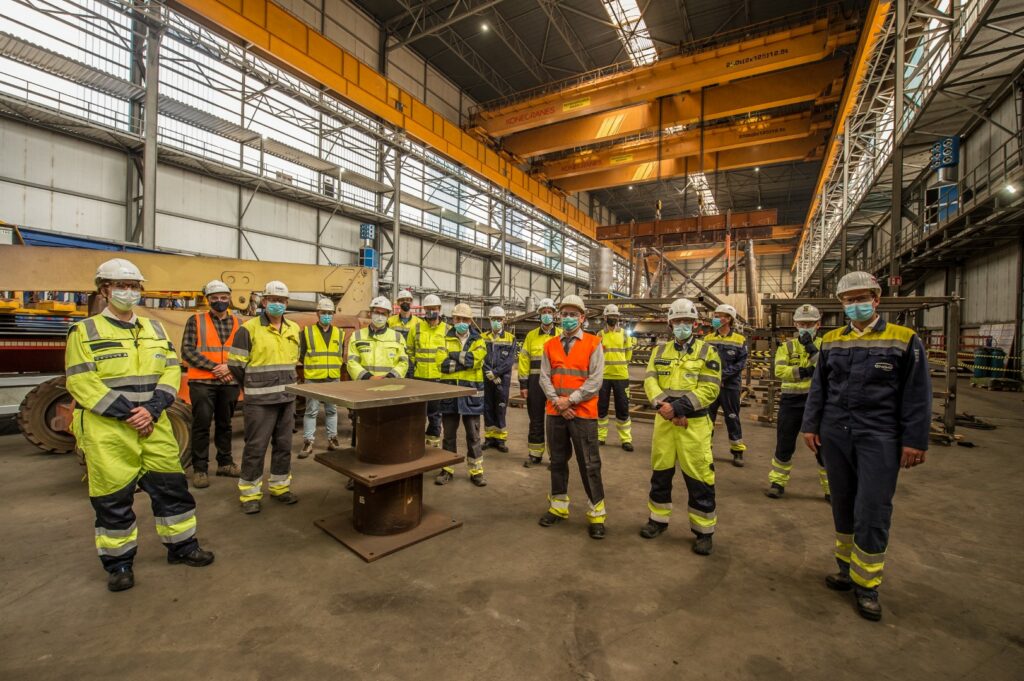 The joint venture partners and TenneT officially kicked off the steel fabrication for the Hollandse Kust (west Alpha) topside at the Smulders' facility in Hoboken, Belgium. Smulders is the parent company of Iemants.
Hans Schipper, JV Project Manager ENGIE Solutions – Iemants, said: "With the cutting of the first steel, an important project milestone has been achieved on time. We are confident that also on this project we will meet the jointly established project goals and continue the excellent cooperation with the teams of TenneT, its Suppliers of materials and the Certifying Authority."
The pieces that were cut – nodes and plate girders – are the first building blocks for the topside. Steel fabrication will now continue at the Smulders' facilities in Arendonk, Balen, and Hoboken.
"We are pleased with these first physical steps in the construction of the offshore transformer station Hollandse Kust (west Alpha); the second Dutch transformer station to be built by the ENGIE/Iemants combination," said Guus Siteur, project manager Platform for the Hollandse Kust (noord) (west Alpha) platform on behalf of TenneT.
The joint venture started the design works for the topside, jacket and piles after the contract award.
The assembly of the topside will start at the Smulders' facilities in July 2021 after which the topside deck sections will be transferred to the ENGIE Solutions yard in Hoboken for installation of all the auxiliary systems and the integration of the free issued medium & high voltage equipment starting in the fourth quarter of 2021.
The final outfitting, commissioning and testing will take place from March 2022 until the sail away in the summer of 2023, after which the topside will be installed offshore.
The jacket fabrication will start shortly. Offshore installation of the jacket will take place in the summer of 2022.
The transformer substation for Hollandse Kust (west Alpha) is scheduled to be fully offshore commissioned in the third quarter of 2023.
The joint venture ENGIE Solutions – Iemants and TenneT signed the contract for the Hollandse Kust (west Alpha) substation in November 2020.
Earlier that year, the joint venture was already awarded the contract for the Hollandse Kust (noord) substation, of which the assembly is currently ongoing on the ENGIE Solutions' yard in Hoboken.
Both contracts include the engineering, procurement, construction, offshore installation, connection, and testing of the offshore transformer substation and are the result of a European call for tenders issued by TenneT in 2019.
The Hollandse Kust (noord), (west Alpha) and (west Beta) offshore platforms, each with a capacity of 700 MW, will be located in the North Sea along the Dutch coast. The three platforms will be the fifth, sixth and seventh large-scale grid connections for offshore wind energy in the Netherlands to be constructed and operated by TenneT.