Details Emerge About German Step-In Offshore Wind Projects
Canada's Northland Power has revealed additional details about the two offshore wind projects for which the company has the step-in rights in the coming auctions in Germany.
The two projects, Nordsee 2 and Nordsee 3, will have an allowed grid capacity of approximately 800 MW to 900 MW combined.
They will be auctioned by the German federal state in 2021 and 2023, respectively.
Northland and RWE Renewables have established two special purpose companies, Nordsee Two GmbH and Nordsee Three GmbH, for the development of the two projects.
Northland holds an 85 per cent share in the companies, and RWE Renewables controls the remaining 15 per cent.
Nordsee Two GmbH and Nordsee Three GmbH were allocated step-in rights for their respective project areas, labelled N-3.8 and N-3.5.
This means that the developers can step-in based on the lowest bid of any other bidder in the public auctions for these areas and acquire the right to construct and operate the projects, Northland Power said.
These rights give Northland and RWE an outstanding position in the market as it makes them independent in the auctions, the Canadian energy company said.
Northland is currently preparing to exercise these step-in rights.
Location and Conditions
Nordsee Two and Nordsee Three are located close to Northland's other German offshore wind projects : Deutsche Bucht and Nordsee One.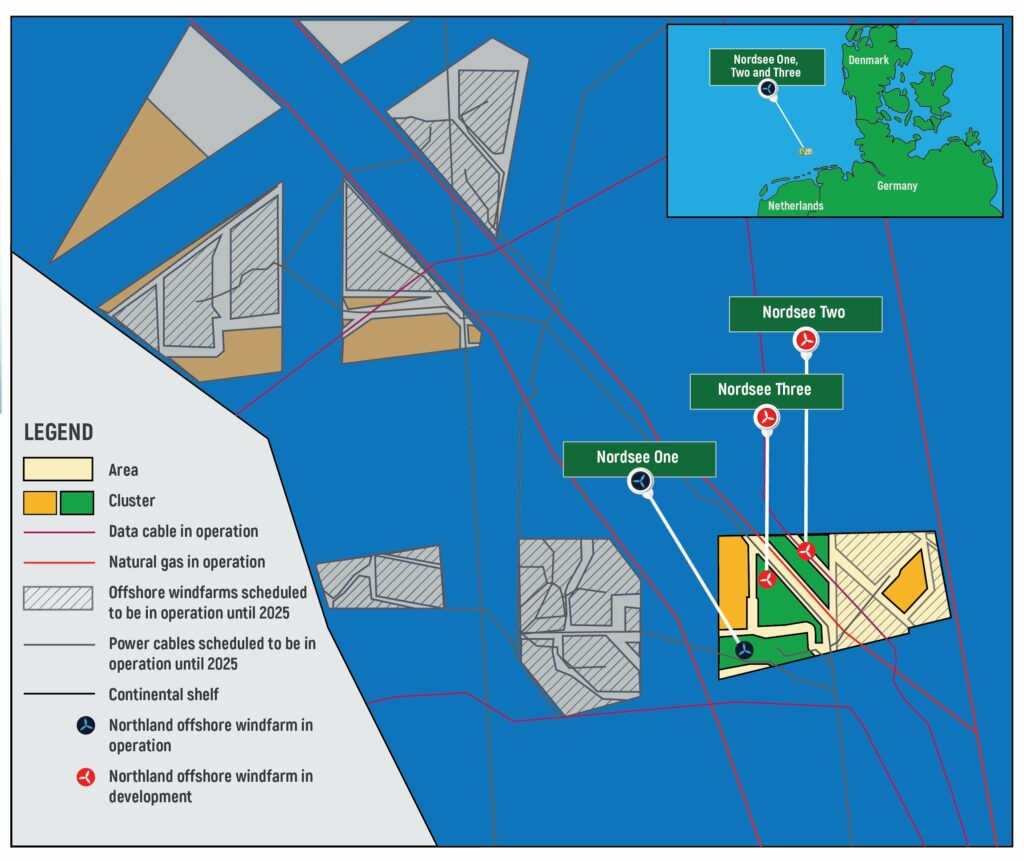 The ground conditions are well-understood, with several locations already investigated and deemed suitable for monopile foundations, the developer said.
With water depths between 29 and 36 metres, the projects are within the operational limits to choose from the wide variety of offshore construction vessels on the market.
Zero-Subsidy Bids Expected
According to Germany's Federal Maritime and Hydrographic Agency (BSH), up to 433 MW can be fed into the grid for Nordsee Two and up to 420 MW for Nordsee Three. The number of turbines will depend on the power of the turbines the project uses.
Nordsee 2 and Nordsee 3 are preparing to exercise their step-in rights in the auctions on 1 September 2021, and 1 September 2023, respectively.
These are expected to result in non-subsidy bids, Northland said.
After all three Nordsee projects are constructed, they will form one of the biggest project clusters in the German North Sea at approximately 1,185 MW.
RWE Renewables and Northland also collaborated on the Nordsee One wind farm which has been operating since 2017.