BW Ideol Raises EUR 57 Million in Private Share Placement
The private placement of new shares for BW Ideol has been completed ahead of the new company's listing on the Oslo Stock Exchange in the coming days. A total of NOK 575 million (EUR 57 million) in gross proceeds has been raised: NOK 500 million (EUR 50 million) through the placement of new shares and NOK 75 million (EUR 7 million) through an over-allotment representing 15 per cent of the new shares.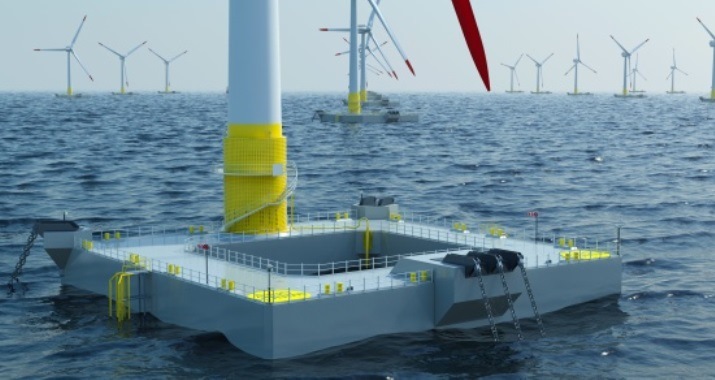 As reported recently, the new company – created after the FPSO operator BW Offshore and the floating wind technology developer Ideol entered a sale and purchase agreement – will use the net proceeds from this share offering to fund the development of the project pipeline, working capital requirements and for general corporate purposes.
The new floating wind player targets a 10 GW floating wind project portfolio by 2030, with 1.5 GW of that capacity planned to be put into operation by that time. According to the new company, it is ideally positioned to win upcoming floating wind tenders, driven by fully proven and cost competitive proprietary floating technology of Ideol and BW Offshore's unique competencies within offshore projects.
The company, set to take over all shares in Ideol on 15 March, announced it expected the BW Ideol shares to commence trading on Euronext Growth Oslo on or about 18 March.
The now completed private placement attracted strong interest from leading domestic and international investors, including several specialist renewable energy investors, BW Offshore said.
Kerogen, Ideol's former majority owner, pre-subscribed for and was allocated NOK 118 million (around EUR 11.7 million) worth of shares; BW Offshore NOK 100 million (around EUR 10 million); Noria, a France-based, clean energy oriented family investment structure NOK 101 million (around EUR 10 million); Key employees of BW Offshore, members of the board of directors in BW Offshore and members of the board of directors in BW Ideol, were allocated shares that amount to approximately NOK 9 million (around EUR 900,000) in aggregate.
The additional shares offered through the over-allotment will be settled by existing shares borrowed from BW Offshore's wholly owned subsidiary BW Offshore Holdings to the companies that have been appointed as managers of the share placement and stock exchange listing (Carnegie AS and Nordea Bank Abp, filial i Norge), and will be redelivered to BW Offshore Holdings upon expiry of the stabilisation period.
Carnegie, acting as stabilisation manager, has been granted an option to subscribe up to a number of new shares equal to the number of the additional to cover any short positions resulting from the over-allotment, and will only receive the proceeds from the sale of the additional shares to the extent that the option is exercised.