Next level wave intelligence for Floating Wind Farms. (FOWF)

Harvesting wind energy from far offshore has significant advantages. At the same time, it introduces many challenges and some unknown issues still yet to be faced.
They are installed far from shore, in deeper waters, in the middle of harsh marine environments where local sea state conditions can instantly change, while turbines are exposed to heavy wave loads, day in day out. Therefore, knowing the wave conditions accurately at the site, bring a meaningful insight for your Installation, operation and to maintenance work as well as lifetime analysis for turbines.
Real time motion compensated wave assessment is an important input from the design phase all the way to end of life and decommissioning, to understand the structural behavior, environmental loads and the responses of your floating wind turbine gives against the waves.
Cost reduction can be achieved with a support of precise technology.
Offshore wind companies need to cut unnecessary cost to realize the LCoE goals. This is a fact!
There are many cost reduction concepts are being introduced in this marketplace to promise exactly this. One of the biggest constrain that sits in the middle of this and needs careful consideration is the Sea State conditions that change constantly. It is even more dramatic especially if you are in deeper waters, far from shore and have a work to perform.
Measuring-monitoring waves for a floating structure in Real-Time, taking roll, pitch, heave limitations into consideration is a complex task. As a result of Radac's long term vision of smart and customer-oriented solutions work frame, we are able to provide this complex solution in a plug and play system that gives the true measurement for cost cutting tools.
How is it done?
It's easier said than done! Principle of operation is based on the synchronized measurements of sea elevation (heave) at several different spots on the surface of the water.
Using these measured elevations, and while considering the Roll, Pitch, Heave motions of the sensors, the water surface slopes are calculated relative to two perpendicular horizontal axis. Radac's state of the art software and smart algorithms, then calculates correlations between the slopes and the measured heave values. In short, this way wave characteristics and many other parameters are determined. We perform, (inhouse developed) digital simulations to replicate conditions to see the performance of our measurements. We have seen many designs and got involved in numerous hours of technical discussions and workshops with our clients and our solution seems to be the best cost effective solution for this application.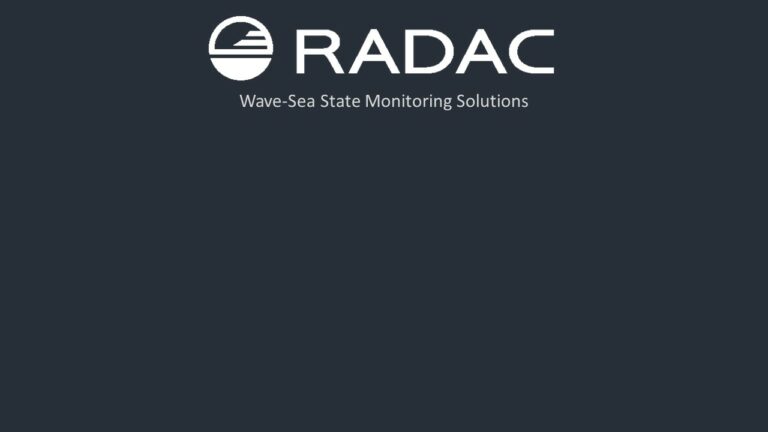 Only accurate data improves efficiency.
Installations in far distances from shore, come with operational challenges. Sea state dependent operations become critical for planners, operators, and vessel owners. The pressure builds up on the team to identify and confirm the suitable work environment for everyone. This unknown situation can cause down-times and eventually not able to perform work.
It is not different with the floating turbines, but even more attention needs to be paid as they are further away, and most likely the chartered vessels are larger and more expensive. Therefore, a need of an accurate- reliable wave data on a dynamic structure is a must.
Our commitment to industries in offshore has not been changed since the beginning. In this everchanging environment Radac are continuously improving the technology to bring smarter, customer-oriented solutions.
More info on www.radac.nl | [email protected] | [email protected]