Jan De Nul has ordered a second mega offshore installation vessel, Les Alizés, from the CMHI Haimen shipyard in China.
The new order comes six months after Jan De Nul ordered its first installation crane vessel targeting the largest wind turbines and foundations, the Voltaire.
Together with the Voltaire, this new vessel will be capable of building the newest generation of offshore wind farms once delivered in April 2022, according to Jan De Nul.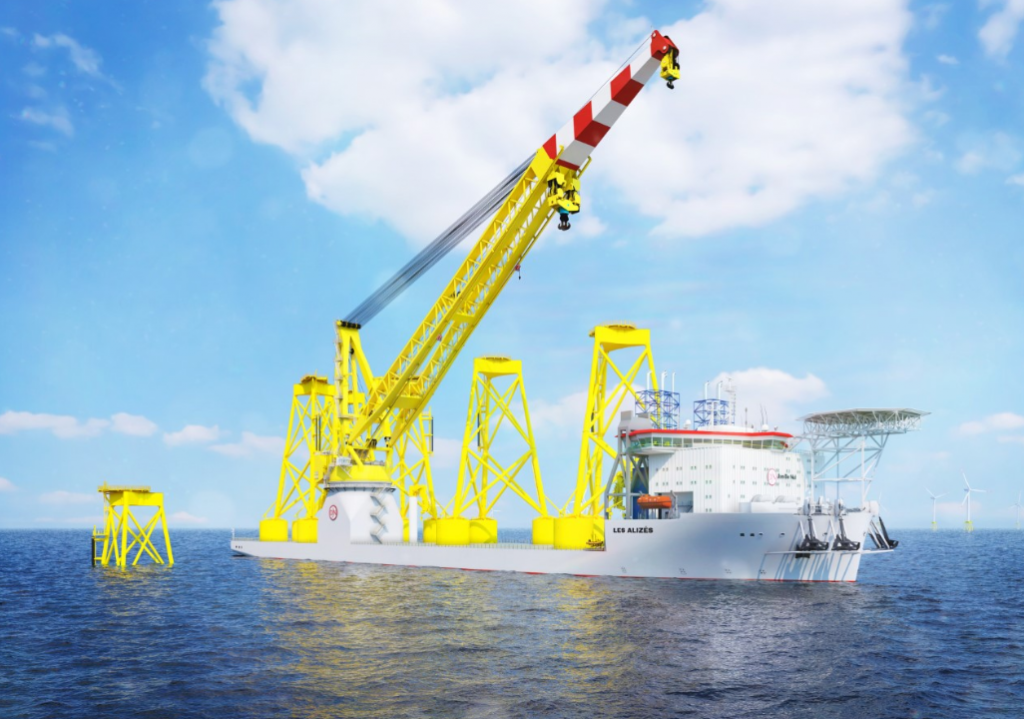 Les Alizés is specifically designed for loading, transporting, lifting and installing offshore wind turbine foundations. The main features are a main crane of 5,000 tons, a deck loading capacity of 61,000 tons and a deck space of 9,300 m².
Thanks to her dimensions and lifting and loading capacities, Les Alizés will be able to load out, transport and install multiple units of the largest and heaviest wind turbine foundations, Jan De Nul said. In addition, as a crane vessel that floats, it will be able to install heavier and larger foundations into deeper waters and in more challenging seabed conditions.
"By ordering Les Alizés today, from 2022 we will have not one, but two, offshore installation vessels that will be able to install the newest generation of offshore wind farms," Philippe Hutse, Offshore Director at Jan De Nul Group, said.
"This is how we offer our customers the most efficient installation method. Similar to the Voltaire, we have financed this investment by means of a green loan thanks to the green emissions reduction technology on board the vessel. During the design phase, as is the case for all our new vessels, we studied very carefully the environmental impact and the solutions to minimize that impact."
The vessel will be built at a shipyard of China Merchants Industry Holdings Co. Ltd., located in Haimen, Nantong City, China.
"The order of the Voltaire was a first step in our strategy to install the newest generation of offshore wind turbines. With Les Alizés we want to further strengthen our vision and our belief in the future of offshore wind energy. We want to be a major and enduring player in this sector. For that reason, we continue to invest in the further expansion of our offshore renewables department," Peter De Pooter, Manager Offshore Renewables at Jan De Nul Group, said.
Unlike the Voltaire, Les Alizés does not have four legs to lift itself above the sea surface. It is a crane vessel for the floating installation, which means that the vessel is not dependent on the water depths and the seabed conditions. Les Alizés is equipped with a high-performance DP2 system.
Les Alizés and the Voltaire will also be the first seaworthy installation vessels in the world with extremely low emissions (Ultra-Low Emission Vessel or ULEv for short) and with EURO STAGE V certification (ULEv notation).
Les Alizés will also have a Cleanship NDO7 label and a Green Passport EU label.
Green Loan for the Newbuilds
On 5 July, Jan De Nul Group concluded an agreement for a green loan with a consortium of five banks, led by KBC Bank, for the financing of both vessel investments. The consortium of five banks consists of KBC Bank, BNP Paribas Fortis, ING Luxembourg, Rabobank and Belfius Bank.