French Port Making Room for Floating Wind Projects
The Occitanie/Pyrénées-Méditerranée Region has awarded a contract for the port expansion of Port-La-Nouvelle in south-western France to the consortium of Bouygues Travaux Publics and Boskalis Nederland BV.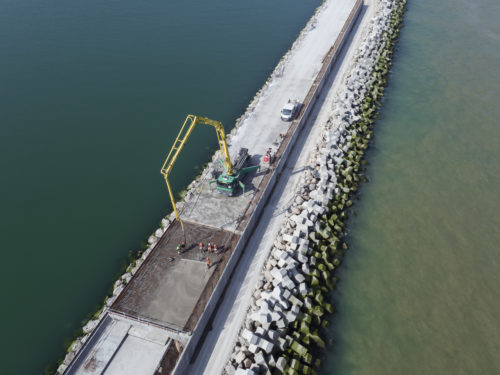 The extension will enable the port to accommodate the construction and assembly of pilot floating wind farms planned off the coast of Occitanie, Bouygues Travaux Publics said.
The total value of the project amounts to EUR 199 million, for an overall project cost of EUR 237 million, forming part of the Region's programmes for construction and coastline development.
When completed, the port of Port-La-Nouvelle will provide a draft of 14.5 metres, compared to the current 8-metre draft. The works got underway recently, and they should be completed mid-2023.
France has so far approved four floating wind pilot projects with a combined capacity of just below 100MW. Three are located in the Mediterranean and one in the Groix area in Brittany.
The 24.8MW EolMed project will comprise four Senvion 6.2MW wind turbines installed on Ideol's Damping Pool floating foundations some 15km offshore Gruissan in an average depth of 55m.
Les Éoliennes Flottantes du Golfe du Lion (EFGL) floating wind project will comprise three MHI vestas 10MW turbines mounted on Principle Power's WindFloat semi-submersible floater in water depths of 65 to 80m. The 24MW project will be located some 17km off the coast of the Leucate/Le Barcarès area.
EDF Energies Nouvelles is developing the 24MW Provence Grand Large project in Faraman area in the Mediterranean. The project will feature three 8MW Siemens turbines installed on floating foundations built by SBM and IPFEN.
---
NOTE: The original article has been amended.