Elia Inaugurates Its Modular Offshore Grid
Elia has inaugurated its Modular Offshore Grid (MOG) in the presence of His Majesty the King of Belgium.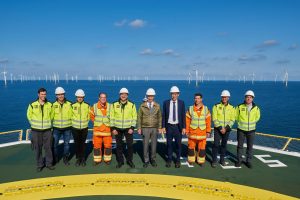 MOG is expected to begin gathering the electricity generated by the Rentel, Northwester 2 and SeaMade offshore wind farms and transmitting it to the mainland via joint subsea cables in 2020.
It features the Offshore SwitchYard (OSY) platform, constructed by Heerema Fabrication Group, linked with the Stevin substation in Zeebrugge via two direct submarine 220kV cables and one cable via the Rentel project.
"The MOG marks a major step forward towards incorporating more renewable energy into our system. As a company, we are especially proud to make this kind of contribution to climate objectives," said Chris Peeters, Chief Executive Officer of Elia Group.
"The project was completed in record time: the first agreements were made with the authorities in March 2016, and now the project is ready ahead of schedule – the result of excellent teamwork and flexibility by everyone working on the project."
MOG's jacket foundation was installed in November last year and the topside this April, while DEME Group completed the installation of 85km of subsea export cable at the project in August. The two 220 kV submarine cables were delivered by Hellenic Cables.
The unmanned platform is controlled from Elia's National Control Centre.