TFKable Installs First Moray East Onshore Cable
TFKable has installed the first sections of the 220kV onshore high-voltage cable system at the Moray East offshore wind farm in Scotland.
Each of the sections includes three circuits of ducted cable, the company said, adding that the next phase of production is in progress.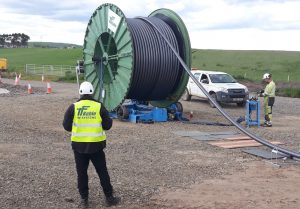 At the beginning of the year, TFKable and VolkerInfra won a contract to provide the onshore high-voltage cable for the Moray East project.
TFKable's HV production plant in Bydgoszcz, Poland, is manufacturing and testing the cable, which is then delivered to the Scottish coast through a drum rotation system.
VolkerInfra is carrying out the installation works connecting the wind farm to the National Grid at the onshore substation at New Deer in Aberdeenshire.
Moray East will comprise 100 MHI Vestas 9.5MW turbines mounted on jacket foundations and scheduled to be fully operational in 2022.
Related news
List of related news articles