Maine Takes Action on Offshore Wind
The Governor of Maine Janet Mills has signed into law legislation that will bring the contract approval for the Maine Aqua Ventus floating offshore wind project.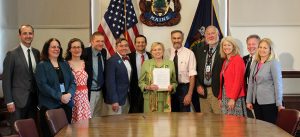 The LD 994 legislation requires the Maine Public Utilities Commission (PUC) to approve the power purchase contract for the 12MW demonstration wind farm, after delaying the decision on the agreement in January 2018 to allow more time for public comment.
Governor Mills announced plans to direct the creation of the Maine Offshore Wind Initiative this summer, which will identify offshore wind opportunities in the Gulf of Maine and determine how the state can position itself to benefit from future projects.
The initiative will focus on promoting compatibility between potential and existing uses in the gulf to inform offshore wind siting considerations and minimize impacts on commercial fishing and maritime industries.
"With the innovative work being done at University of Maine, our state has the potential to lead the world in floating offshore wind development. This long-overdue bill will move us in that direction," said Governor Mills.
"Offshore wind represents a great opportunity for Maine's energy future and our economy. The development of offshore wind technology in Maine will create jobs, help us meet our energy needs with our own resources, and reduce carbon emissions in the process. The Maine Offshore Wind Initiative will lead this work."
Maine's Governor also announced that the state has accepted an invitation from the U.S. Bureau of Ocean Energy Management (BOEM) to participate in a federally-led Gulf of Maine Intergovernmental Regional Task Force on offshore wind with New Hampshire and Massachusetts.
The task force, which includes governmental agencies, will seek to identify potential opportunities for renewable energy leasing and development on the Outer Continental Shelf offshore Maine.
Maine Aqua Ventus will deploy two 6MW turbines on VolturnUS, the floating concrete semi-submersible hull designed by the University of Maine. The 12MW project is expected to be installed in 2020 south of Monhegan Island.