President and Managing Director of Atlantic Shores Offshore Wind Chris Hart has testified in front of the U.S. House of Representatives Committee on Natural Resources calling for workforce development for the local offshore wind industry.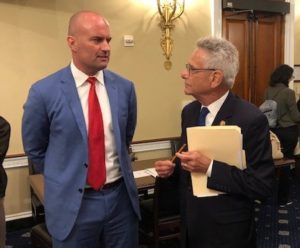 The hearing, Building a 21st Century American Offshore Wind Workforce, focused on the Offshore Wind Jobs and Opportunity Act, which would establish a federal grant program to help educate and train the next generation of U.S. offshore wind workers.
Hart believes the legislation would help address the issue by fostering collaboration between the Interior Department, project developers, local governments and labor groups to make sure individuals can obtain skills and training necessary to compete in the industry.
Furthermore, Hart emphasized that there is a significant amount of transferrable skills from the onshore wind industry, as well as expertise from infrastructure and manufacturing of offshore oil & gas structures and shipbuilding.
"If the U.S. offshore wind industry is to meet our mission of delivering safe, sustainable energy, we will need to hire many more workers, and these jobs will require hard hats and specific skillsets acquired with the proper training," Hart stated in his testimony. "A recent study found the industry will need to employ more than 35,000 full-time employees to support 8 gigawatts of offshore wind."
Atlantic Shores, a joint venture of EDF Renewables North America and Shell New Energies, plans to build multiple projects over the next decade within their 183,000ha lease area off the coast of New Jersey, which has the potential to generate 2.5GW of offshore wind energy.
Related news
List of related news articles