Okeanus Supports TerraSond in US Survey Campaign
Okeanus Science & Technology LLC has provided equipment to TerraSond in support of recent survey work at a wind farm offshore the U.S. East Coast.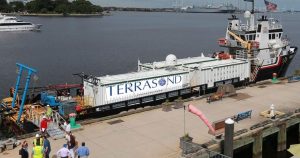 Okeanus provided slip ring winches and over-the-side pole and adapter for USBL mobilization, among other equipment, for the launch and retrieval of the A-Frame onboard TerraSond's chartered vessel Gerry Bordelon.
"Okeanus is proud to provide TerraSond the tools necessary to ensure safe, efficient, and productive surveys are conducted in the Atlantic," said Benton LeBlanc, Managing Director of Okeanus.
"TerraSond has been an absolute pleasure to work with, and we're looking forward to a productive long-term relationship." 
In summer 2018, Ørsted selected Gerry Bordelon to conduct final geophysical studies on the site of the proposed Coastal Virginia Offshore Wind (CVOW) project.
The vessel was chartered by TerraSond for the project's two turbines, searching for obstructions on the sea floor that could potentially impede construction activities.
"Okeanus and their team played a large part in the quick and efficient mobilization of the geophysical survey suite. Their equipment is well-built to withstand the offshore environment and these kind of survey operations and the support we received from Okeanus on this long term deployment has made for a great team experience," said Steve MacDonald, Senior Account Manager at TerraSond.