Van Oord to Wire Ørsted's Borssele
Van Oord has won a contract to install inter-array cables on Ørsted's Borssele 1 + 2 offshore wind farm in the Dutch North Sea.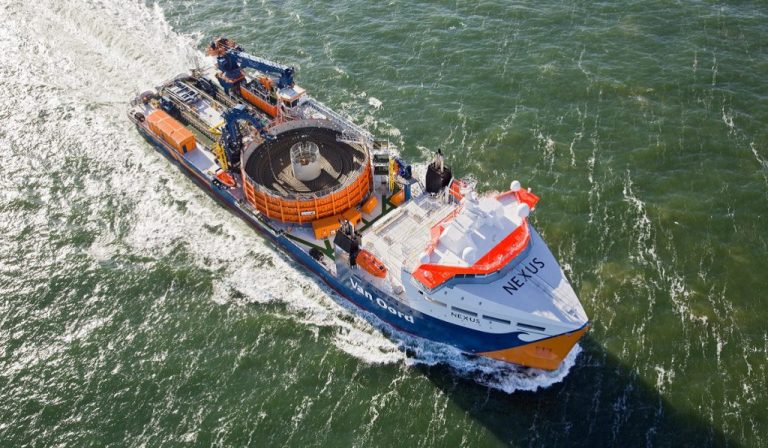 Van Oord will transport, install and bury 94 inter-array cables with a total length of 167 kilometres. The company will deploy its dedicated cable-laying vessel Nexus and trencher Dig-It to install and bury the cables to a depth of 2 metres.
Arnoud Kuis, managing director of Van Oord Offshore Wind, said: "We are excited to have been awarded this project by Ørsted. Projects like Borssele 1+2 are essential in meeting the rising global demand for energy and in making offshore wind more competitive as sustainable energy. We are proud to be part of this prominent project."
As reported earlier, DEME's GeoSea will transport and install 94 foundations and turbines at the wind farm. A2SEA, part of GeoSea, will provide installation vessel capacity to transport and install 94 Siemens Gamesa 8 MW turbines with a new large 167 meter rotor.
The construction is scheduled for 2020.
Henrik Egholm, EPC director Borssele 1+2 for Ørsted, said: "Contracting the installation works with two very experienced and capable contractors is a key step in the safe and timely realisation of our Borssele project. We are well on schedule with the preparation of offshore construction in 2020 which will now go into a more detailed planning phase with our contractors."
Borssele 1+2 has a capacity of 752MW and will be located 23 kilometres from the coast of Zeeland(Westkappele).
"Borssele 1+2 will be the largest offshore wind farm in the Netherlands and Ørsted's first in this new tender based market. We are satisfied that we can continue the delivery of this landmark project together with a combination of regional, national and international companies," Steven Engels, general manager Continental Western Europe for Ørsted.