Offshore Wind Conference 2018: One Week to Go
Are you ready for the new dawn in offshore wind? At the Offshore Wind Conference 2018 (OWC 2018), you can discover how you and your company can prepare for the new industry standards throughout several sessions that jointly aim to cover everything needed to get the full picture of what lies ahead.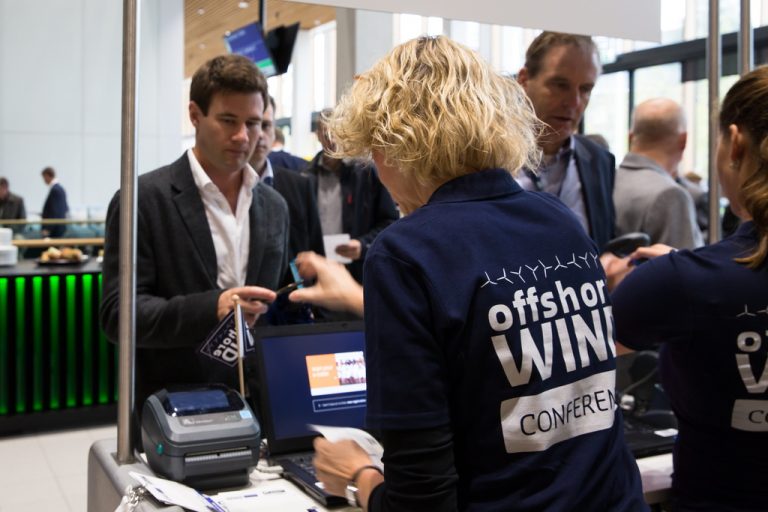 The Offshore Wind Conference is set to kick off on 22 October in Amsterdam and will gather industry experts who will discuss various topics over the three-day event.
Update NL
The Netherlands has a solid and internationally acclaimed policy regarding the development of offshore wind that has resulted in zero-subsidy bids for projects that will be built after 2020.
A new development in the Netherlands is the Climate Agreement that plans to double the build of offshore wind turbines after 2023. On top of that, more innovations could further decrease the cost of offshore wind.
The free-to-attend Update NL session is a pre-event to the Offshore Wind Conference and gives an overview of the latest developments in the Dutch offshore wind policy and industry innovations. Speakers include Ruud de Bruijne, Project Manager Offshore Wind Energy at the Netherlands Enterprise Agency (RVO) and Bob Meijer, Director Offshore Wind Energy R&D at TKI Offshore Wind.
Opening session: A new dawn for offshore wind
Europe has led the development of offshore wind over the past decades. Numerous operational offshore wind turbines, research and innovations have led to ever-increasing wind turbines that will soon reach 12MW, as well as to faster and more cost-efficient installation methods. The industry is also moving forward with floating offshore wind that has huge global potential as it allows tapping into resources in areas where installing bottom-fixed turbines would be a major endeavour or out of question altogether.
With offshore wind going for a significant share of not only European, but global energy mix as well, Dutch companies are now also active in both Asia and the United States of America.
The keynote speakers at the OWC opening session will set the scene for the conference, which looks at the next steps, as we have entered a new phase in offshore wind power with zero-subsidy bids, where governments take on and manage a share of the project risk. The focus is on innovations, bigger turbines with higher capacity and a solid government policy. Is this development sustainable? You can find out more on this from Ditlev Engels, CEO, DNV GL Energy, Pieter van Oord, CEO, Van Oord and Marcel van Bergen, Director, Boskalis Offshore Energy Division at the OWC opening session.
Energy security and offshore wind
The increase of power supply from renewable energy sources, in particular offshore wind, and the decrease of conventional supply demands a new energy system that offers energy security.
Policymakers and industry are working on solutions for reliability as well as optionality. This session looks at how the European energy system and reliability. How can power markets absorb large amounts of cheap electricity? What energy storage solutions are conceivable and which are available? Jan Rispens, Managing Director, Renewable Energy Hamburg will share insights from the German market and Ernst van Zuijlen, Project Director, Offshore Service Facilities will present a vision on energy security and interconnection.
Profitability and financeability of offshore wind
Building offshore wind parks without subsidy has marked a new stage in the development of offshore wind. Next to that, the LCOE of offshore wind has dropped dramatically in the last ten years.
How will financing future projects evolve without the support of subsidy? What new business models do experts see emerging? Speakers Barbara Zuiderwijk, Founder and director of Green Giraffe and Niels Muller, Partner at PWC will discuss the future of offshore wind in various countries.
New Markets for offshore wind
The offshore wind industry is expected to grow to 120GW total installed capacity by 2030. In North-West Europe, the North, Irish and Baltic Seas are relatively shallow and have sandy bottoms, while most seas in the world have rock-like bottoms and deeper waters. Other global regions also have to deal with volatile weather changes, such as hurricanes.
Furthermore, rules and regulations could potentially prove challenging for companies wanting to do business in new markets. Much of this growth will take place in Europe but there will also be a considerable increase in capacity in North America and Asia.
This session takes a closer look at growth markets and newcomers, and the business opportunities they bring. More details on their respective markets will be provided by Liz Burdock, Executive Director at Business Network for Offshore Wind USA, Edgare Kerkwijk, Board member at Asia Wind Energy Association in Singapore and Stefan Lettink, Director Wind at Royal IHC.
New technologies and new talents in offshore wind
The offshore wind industry will move to deeper waters. The growth of the offshore wind industry, be it in floating wind farms or in fixed structures, requires a new work force. The technologies developed for and deployed by the offshore wind industry are continuously improving. In 2017, the world's first floating offshore wind farm started generating power and more will follow.
Erik-Jan de Ridder, team leader Renewable energy at MARIN and Ole Stobbe, Business Development Manager Northern Europe at Ideol, will present the state of play in floating offshore wind structures. In the same session Joost Pellis, Strategic Manager Renewables at Atlas Professionals will discuss the changes he sees in how wind farm owners, developers and contractors recruit and train offshore wind professionals. It is becoming increasingly important to start dedicated education at an early age and stage.
Closing session: The role of offshore wind in the future energy mix
The amount of energy produced offshore will increase. This holds true for offshore renewable energy, in particular offshore wind, but also for offshore oil and gas.
As the International Energy Agency (IEA) has published its latest Offshore Energy Outlook, part of the flagship World Energy Outlook series, one of the speakers at this year's Offshore Wind Conference will be Tim Gould, Head of Division, World Energy Outlook at the IEA, who will share the key insights.
According to the IEA, the promise of cost-competitive offshore wind in Europe's North Sea could spark a circle of accelerated deployment and technology learning in other parts of the world, but there are still some reasons for uncertainty on how competitive the industry can become. The IEA has developed two main scenarios – the New Policies Scenario and the Sustainable Development Scenario – with which it describes possible outlooks for offshore energy against a backdrop of developments in the energy market, energy policy and new energy technologies.
Also speaking in the closing session is Maria van der Heide, Senior Policy Adviser – Corporate Accountability and Natural Resources at ActionAid. The growth of the wind industry will create stronger demand for the minerals needed to produce wind turbines. Maria van der Heide will focus on the different social and environmental risks in wind turbine supply chains and how to address these risks by implementing CSR standards.
Concluding the offshore wind conference, you will leave knowing where offshore wind stands in the greater global energy outlook.
Check out the Offshore Wind Conference 2018 programme, and find more information about the event at www.offshore-energy.biz.