MHI Vestas Orders Two New Esvagt SOVs
Esvagt has won two long-term contracts by MHI Vestas to deliver two new service operation vessels (SOVs) for the Borssele III & IV offshore wind project in the Netherlands and Triton Knoll in the UK.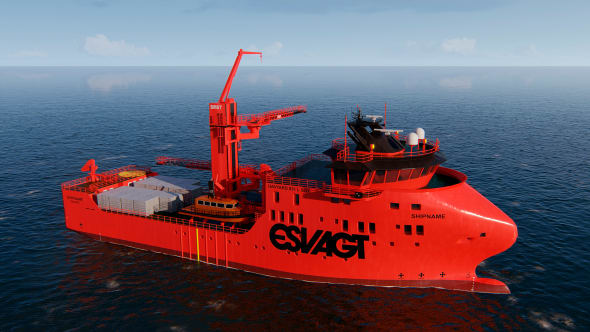 The contracts will run for up to 15 years. An option for an additional SOV for servicing the Moray East offshore wind farm in the UK is also included.
According to Esvagt, the agreements reinforce the relationship between the two companies, who have collaborated on the Belwind 1 and Nobelwind 1 offshore wind projects in Belgium since 2010. The newly-built SOV Esvagt Mercator commenced its charter at the two wind farms in 2017.
The new SOVs will feature an 831L design, on which Esvagt is collaborating with Norwegian Havyard. The 70.5m long vessels will be equipped with a compensated walk-to-work gangway and daughter craft, as well as multiple other features, and will have the capacity to accommodate up to 60 persons.
"We are proud to continue our close partnership, and together with MHI Vestas set the standard for innovation and long-term solutions. We look forward to presenting 831L as yet another customized SOV, in which we combine the client's needs with our competencies and experience in order to guarantee the most optimal and cost-efficient solution," said Søren Karas, CCO at ESVAGT.
The 731.5MW Borssele III & IV wind farm will comprise 77 MHI Vestas V164 9.5MW turbines. The project recently achieved financial close, enabling the developers to focus on the construction phase, with the main offshore works due to start in the fourth quarter of 2019.
Triton Knoll will comprise 90 MHI Vestas 9.5MW turbines. Onshore construction commenced earlier this month, while offshore construction is expected to start in late 2019 or early 2020.